10 Reasons, Why WooCommerce is Better Than Shopify in 2022?
Contemplating to get an eCommerce platform for your shopping website? We have got you covered. When it comes to E-commerce platforms, you have got tons of options. But simply put, there are only a few that can offer you ultimate features that you are looking for and WooCommerce and Shopify are among them. These two names are most popular when it comes to eCommerce platforms and no doubt, each one has multiple strengths. But which one is ideal for your business? WooCommerce or Shopify?
Used on about 2.3 million eCommerce stores around the world, WooCommerce is particularly friendly to new eCommerce merchants because it combines ease of use with incredible power, flexibility, and features. Below you'll find 10 advantages of Woocommerce over Shopify. So scroll down and discover why WooCommerce is better than Shopify.
Top 10 Reasons, Why WooCommerce is Better Than Shopify in 2022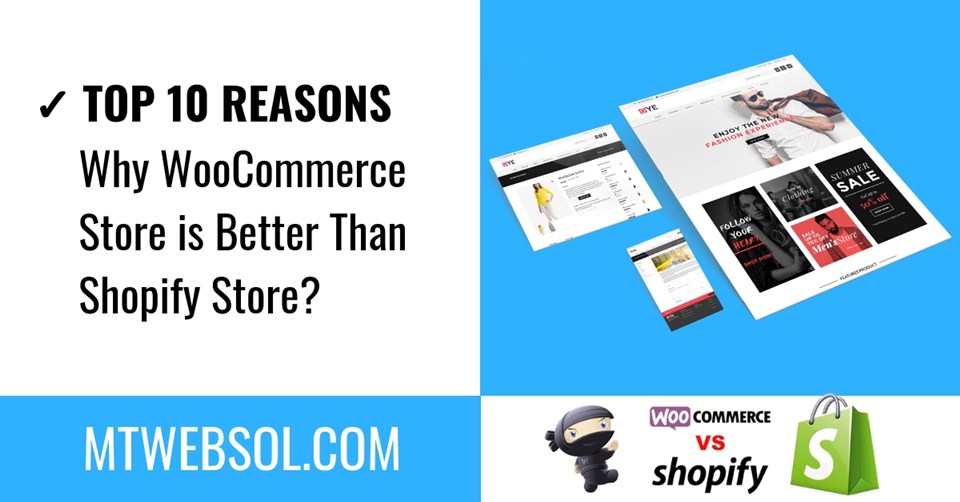 Although both the platforms shares many features and are similar in some sort, however, WooCommerce is arguably the most popular and the best eCommerce platform for WordPress because:
1: It is Free
When the new retailers or the small business owners are looking for an online platform, pricing is a major factor. eCommerce platforms range from free to many hundred dollars each year but that difference is not related to the capability of the application and both of these platforms have different pricing approaches. WooCommerce offers you free open source software plugin (some optional premium plugins will need money) while the Shopify costs you money per month along with it's addons. However WooCommerce Store setup requires only one time development fee and web hosting + domain name.
2: Offers Huge Flexibility with Unlimited Products & Plugins
WooCommerce offers huge flexibility to the newcomers in terms of their products and without having too much to know about the technical side of the things. This means, WooCommerce allows it for the retailers to categorize products, sell physical, virtual, affiliate and even downloadable products, effortlessly. You can sell unlimited number of products with WooCommerce, further you do not need to subscribe to addons on monthly basis. Plugins once bought for WooCommerce do not require any monthly subscription, whereas Shopify Plugins or Addons need monthly subscription.
3: It is Simply More Than An eCommerce Platform
Unlike Shopify, WooCommerce is not just an E-commerce platform. It allows users to go beyond the E-commerce and shopping platform. It allows the users to build a fully functioning store within a professional website, alongside an integrated blog.
4: You Get Limitless Customization
With the WooCommerce, you get limitless customization options for your store. This means you can create a store with real personality. Little wonder that WooCommerce calls itself "the world's most customizable e-commerce platform".
5: It Best Complements WordPress
Although Shopify is a good option to choose, however, WooCommerce is the best one as it best complements the WordPress. The ease of use, user friendliness, fast, and responsive features of both the platforms makes the browsing and shopping experience much more pleasant for the user. You have complete hold on the source code of your WooCommerce Store. Don't forget to checkout 5 Best Managed Hosting Providers for WooCommerce or WordPress Sites.
6: Crisp and Clean Interface
There is another point which we would like to give to WooCommerce and it is its interface. With a neat and intuitive interface, you will be able to show and sell your things more successfully. WooCommerce helps you superbly in enhancing the look and feel of your products along with efficient navigation through the site, bringing your eCommerce experience up to par with latest trends.
7: Powerful SEO
WooCommerce gives you everything that you need to harness the power of Search Engine Optimization and dominate those Google rankings. Don't forget to check out Best SEO Plugins for WooCommerce / WordPress.
8: Be Your Own Boss
Another plus that WooCommerce has got over Shopify is, no one is the boss, but you. You don't have to share your data or info with the third party software platforms, instead you handle everything on your own, without any restriction.
9: Thousands of Store Designs
Unlike Shopify, WooCommerce offers you thousands of store designs through WordPress themes that allows you to choose the best one suited for your needs. Check out the Best WooCommerce Store Themes.
10: Professional Yet Simple
Last but certainly not the least, WooCommerce is the best and the most professional eCommerce platform that you will ever get. Signing in and up, checking out and buying was never that easy before.
So which platform would you prefer for your eCommerce Store? Shopify or WooCommerce? Let us know in the comments section.
If you are looking for Complete WooCommerce Website Development Packages that include domain name, web hosting and eCommerce Website Development, MT Web Sol Quick Shop is here to set up everything for you. Our team has 5 years of experience with Latest Web Technologies and we are proud to serve our valuable clients globally. Get in Touch to discuss your project today!