6 Best eCommerce Web Platforms for Online Stores in 2023
For anyone who is planning to start an eCommerce business in 2023, it is really important to weigh all his options. With the present competitive world, you have to consider lots of factors regarding the business and its marketing. Most importantly, you have to go with the ideal eCommerce platform that offers your brand a life and spark that is difficult to resist.
So regarding the fact, we have listed the best 6 eCommerce Platforms for Online Store Websites in 2023 that will help you flourish your business in its initial stage and future.
Top 6 Best eCommerce Web Platforms for Online Stores in 2023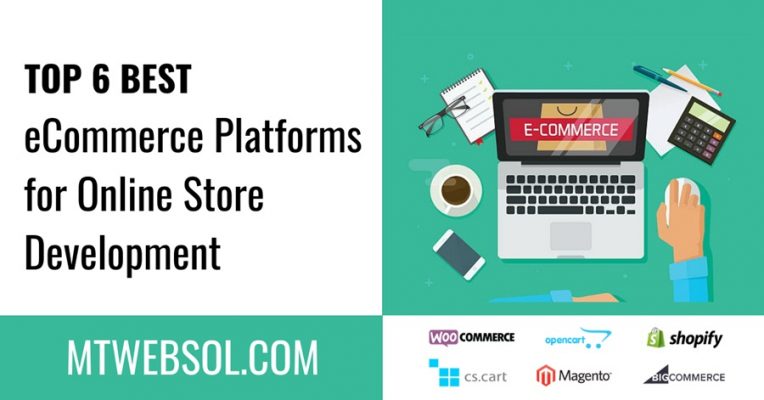 As a matter of fact, an ideal eCommerce platform is the one that is easy to use, focuses on the products of the brand and most importantly offers great customer service with the 24/7 access. Regarding these features, we have rounded up a list that is most suitable for online stores in 2023:
1: WooCommerce
The first eCommerce platform on the list is WooCommerce that definitely needs no introduction. The reason it stands first on the list is its ease of use, reliability and flexible payment options. In addition to that, it is an open source free WordPress plugin that has the ability to turn your website into a really powerful online store. Moreover, the platform offers several free themes that you can install and start using right away, making a perfect eCommerce platform for online store websites in 2023.
2: Opencart
Opencart is another amazing eCommerce platform that offers everything you need to create, scale and run your business. Using this platform, you can set up unlimited product and product categories on your store that can be easily purchased without any hassle. The Opencart comes with the feature of product reviews and ratings out of the gate and supports multiple currencies to target large audiences. In addition to that, the platform is highly customizable and comes with thousands of plugin extensions to offer you the ultimate online store managing experience ever.
3: Shopify
Our list of best eCommerce Platforms would be incomplete without Shopify that has become one of the best-known eCommerce platforms in the eCommerce world. Shopify is a fully featured platform allowing the customers to get everything they need effortlessly. The platform comes with the easy to use and set up features that make shopping and selling a piece of the pie. It includes tons of SEO features and elegant themes that will make you fall in love with it right away.
4: CS-Cart
If you are looking for something secure and functional, CS-Cart is the name worthwhile. In other words, CS cart is a professional eCommerce platform that allows the online vendors and single sellers to sell their products effortlessly while enjoying over 500 amazing features including built-in designing tools, fully customizable themes, and designs, mobile and SEO friendliness, free technical support and much more.
5: Magento
Although Magento is quite a newcomer to the eCommerce sphere but it has gained the trust of millions of sellers and buyers all across the globe through its reliability and scalability. It offers hosted cloud support, flexible payment options, several marketing features, site optimization and lots of controls that you will find very beneficial for your business. In addition to that, it also has a strong community behind it that is constantly improving the platform and developing new themes and plugins.
6: BigCommerce
Since its inception, BigCommerce has been lauded as one of the most prominent eCommerce software providers all across the globe because of its useful features and flexible functionality. It is probably most similar to Shopify and offers everything that you need to manage and flourish your business. Additionally, BigCommerce integrates with Amazon, eBay, and social networks. This enables you to sell across many different sales channels. It also has a lot of marketing tools with very granular controls, such as full control over the URL format. There are more than 40 payment processing methods and a tons f customization options that help you to improve your site according to your own needs and requirements.
If you are looking for Complete WooCommerce Website Development Packages that include domain name, web hosting and eCommerce website development, MT Web Sol Quick Shop is here to set up everything for you. Our team has 5 years of experience with Latest Web Technologies and we are proud to serve our valuable clients globally. Get in Touch to discuss your project today!