List of Top 8 Best WordPress SEO Plugins [Paid & Free] in 2022
It is search engines who are responsible for bringing traffic or clients to your website. It is critical to work hard on your website's SEO for making it search engine friendly. Otherwise, you can not reach your target audience organically. You need to rank your page high on a search engine for at least one specific keyword.
These are the reasons why webmasters are always worried about SEO. They keep on looking for different SEO hacks that can improve the SEO of their wordpress websites. Speed Optimization is also a very important factor for SEO of any wordpress website.
List of 8 Best WordPress SEO Plugins in 2022 To Make Website SEO Friendly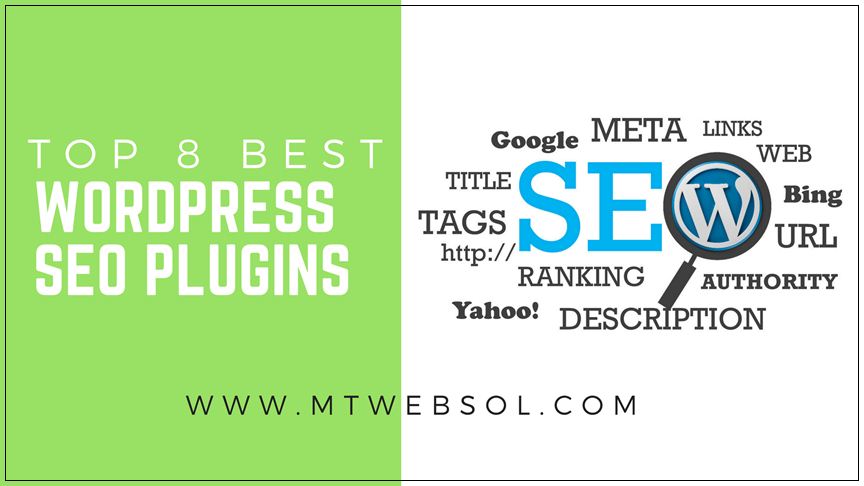 In today's article we will tell you about Top 8 Best WordPress SEO plugins in 2022.
This is the number one WordPress SEO plugin of all times. It attracts lot of visitors from google and Bing. You can add SEO title, meta description and meta keywords on all pages and posts. This is perfect solution for your on-site SEO needs. It gives you full control over site bread crumbs. There are special tools available to write SEO friendly content. There is snippet preview feature which shows you how your page or post would look in search result. The cornerstone content and internal linking features are there to help you optimize your site structure in breeze. You can manage SEO roles. If you want, you can give your colleagues access to some specific sections of Yoast SEO plugin.

This is one of the most popular WordPress SEO plugins. Its number of Installs has even crossed that of Yoast. It comes along with free woo Commerce integration. Other key features are easy google analytics integration, XML sitemap support, support for custom post types, Canonical URL support, and automatic or manual meta information. This is user friendly for beginners and will help you to optimize your site for search engine. None of the features is enabled by default. You can select which one to enable according to your need. There is a free bad bot blocking feature. It can stop badly behaving bots from slowing down your website. Social meta feature can add social meta data to your site to provide better integration of your site with social media.

This is the great plugin which provides automated, accessible, easy and fast SEO solution. When you will install it, there is only one long list of options. You will not see notifications popping up anywhere. It makes a beginner feel easy. You can configure meta titles and description, social meta information, basic schema information, settings for search engine robots. It automatically generates titles and canonical URLs. It has free support for woo Commerce and bb Press.  It also supports PHP 5.3 and higher.

This is a premium plugin which helps you to bring traffic towards your website. It offers a great user experience by using a specific minification tool. It provides great help in internal link building which is very important from SEO perspective. Images can also be optimized. This SEO pack plugin will also make sitemap for your site, even for the videos. It has a proper mechanism for on-page optimization for your blog. Another additional benefit is SERP tracking. This tool will let you track search engine ranking for your keywords, in a user friendly dashboard. You do not have to spend any extra amount to keep track of your site in the search results.

Snippet is a precise summary of your page in search engines like Yahoo or Google. It provides only important and precise information to search engines. This would help you rank higher in search results. This plugin supports different types of schema like  review, event, people, product, recipe, software application, video and articles.

This is very beneficial SEO plugin for wordpress website. Some of its good features are custom keyword lists, nofollow and many more configurable options. It automatically links keywords and phrases in your posts and comments, with the corresponding pages, posts, categories or comments in your blog. It works on all modern browsers and work with all cache plugins. This is a perfect solution for getting your blog posts interlinked. You can set nofollow attribute and open links in new window.

KeywordTool.io (Keyword Research Online Tool)

This keyword tool is a good alternative to google keyword planner. It is capable of generating 750+ long-tail keyword suggestions for every search term. It can be used absolutely free, even without creating an account. The importance of keywords needs no introduction. It is very important to find out what your potential customers are searching for and create your content around them. The keyword tool works with the help of Google Autocomplete to generate keywords. The data advertised by Google Keyword planner is not useful for blogging, SEO, or content marketing. This data is used for paid advertising inside Google Adwords. So their keywords are not much descriptive. Keyword Tool will help you if you need to find keywords in any language other than English.

 Uber Suggest (Keyword Research Online Tool)

This is another handy tool for finding keywords. If you want more data on keyword this tool can help you, either it is volume, seasonality, or cost per click data. It will easily let you differentiate between good and bad keywords.
<
p style="text-align: justify;">If you are new to WordPress, we highly recommend getting professional WordPress Website Development, WordPress SEO services to rank your website on major search engines and get your business to skyrocket levels. Get in touch with our dedicated team to get started.