8 Best WordPress Price Comparison Table Plugins in 2023
Pricing tables are one of the great means to represent information and pricing about deals, products, or services in a beautifully organized way. They often include a call to action buttons, which doubles the chance of conversions into sales. In today's post, we will talk about the top six best pricing tables plugins for WordPress Website Development Projects. Do not forget to check out Best Responsive Table Plugins for WordPress & WooCommerce.
Top 8 Best Price Comparison Table Plugins for WordPress & WooCommerce in 2023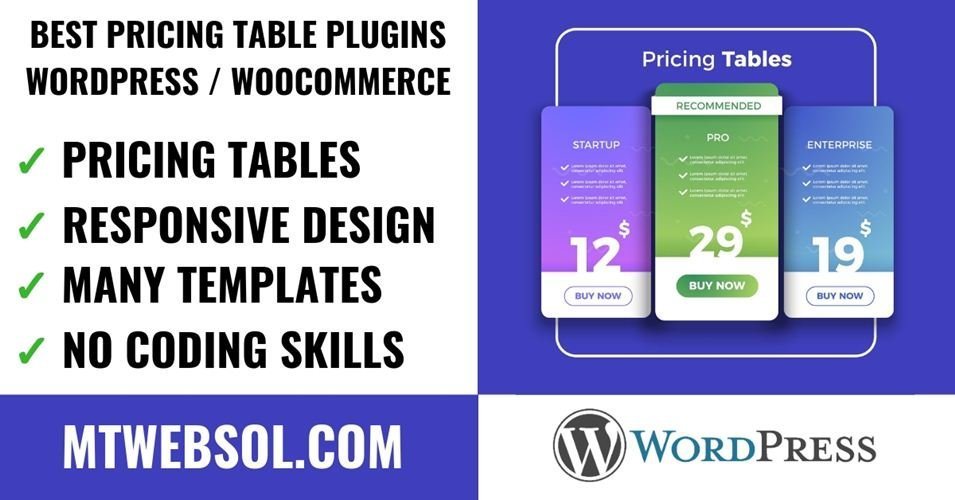 Visitors can easily make an informed and wise decision with the help of pricing tables. It is obvious that if a visitor is feeling any ambiguity, it is most likely that he loosens his pocket. So downloading any pricing table plugin would be a sensible decision as it can boost up the conversion rate. They show the full bundle of options to your potential customers. You can also think of pricing tables as the best marketing strategy which grabs the attention of the customer and he seems to be compelled to think about the purchase.
 
AR Price is the best, the complete, the number one and fully featured wordpress plugin for  pricing tables. It is bundled with more than 200 pricing tables templates. It gives you the minimal interface for creating unique and responsive tables for pricing and comparison.
The dashboard of AR Price is comprehensively intuitive, with a stunning real time editor. It takes few click to build up magnificent pricing table. Just choose a template and customize it according to your needs. Customization is possible in each and every minute detail, like number of columns, colors, fonts, sizes, icons etc. You can even set different backgrounds for different columns. The amazing thing is that there is no limit for maximum number of columns. Moreover, you can include fancy animation effects. The submit buttons can be installed which sends custom data when they are pressed. There is support for PayPal button integration. AR Price also helps you to design team showcase.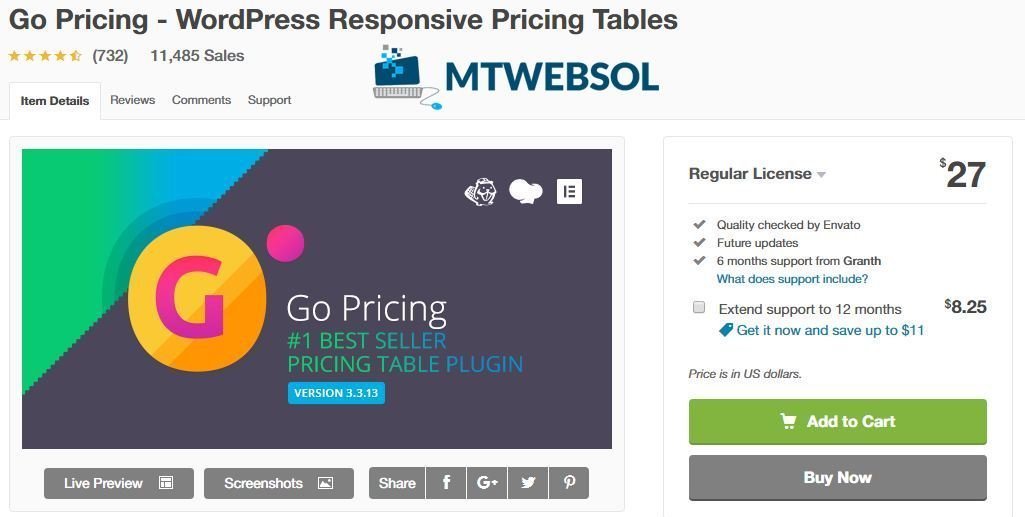 Go Pricing is an efficient pricing table plugin for WordPress, which supports many media elements like audio, video, image and maps. It comes with complete learning support, tutorial videos, documentation and advanced column settings. From header to footer, including the body of column every thing is 100% customizable. The clean UI helps you to build tables quickly. The plugin is very easy to install, just a matter of few clicks. There are ready made demo tables available to save your time. There are more than 250 tables which can also be imported. Go Pricing is compatible with three great page builder plugins. Elementor, Beaver and WPBakery. It is very likely that you face any issue like Theme compatibility. Go Pricing is compatible with nearly every theme which follows WordPress coding standards. Price Counter is one of the best features of Go Pricing. Animations are supported too. Import and export functions are awesome. You can easily import demo tables, create backups and restore them to move data within your sites. Go Pricing is like traditional WordPress pricing tables which gives you so much more.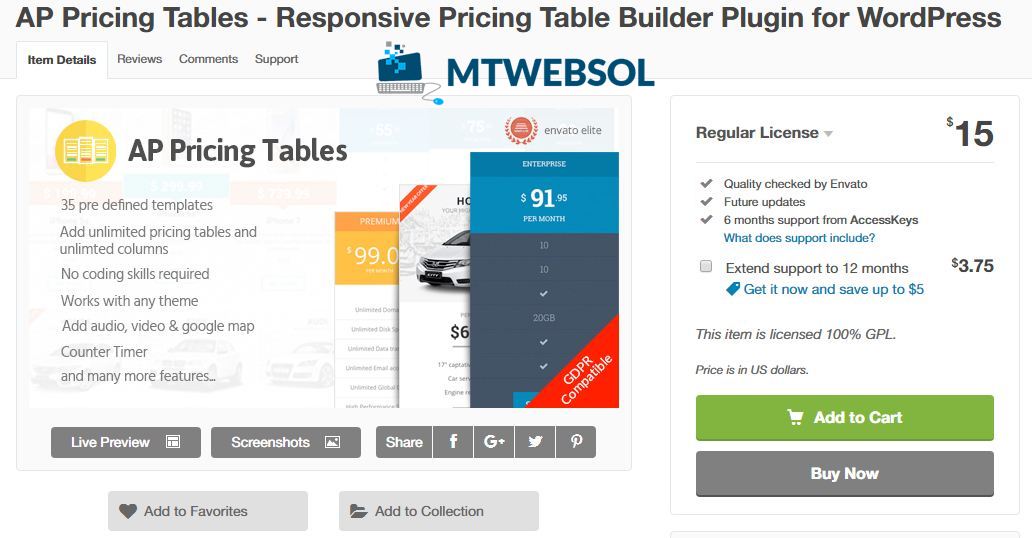 AP Pricing is a rich pricing table plugin with very simple interface. There are 35 templates built-in ready to be used. So without any knowledge of coding, you can design an attractive table. There is no restriction on maximum number of rows and columns. You have the freedom to define all minor details like column border radius, column space, column width, configure ribbon for each column and much more. Also, you can add audio, video and Google Map in content. You can set two different prices for single product, lets say one of them is selling price and the other one is  marked price. It is possible to duplicate and even import export the tables. AP Pricing Tables works perfectly with every WordPress theme.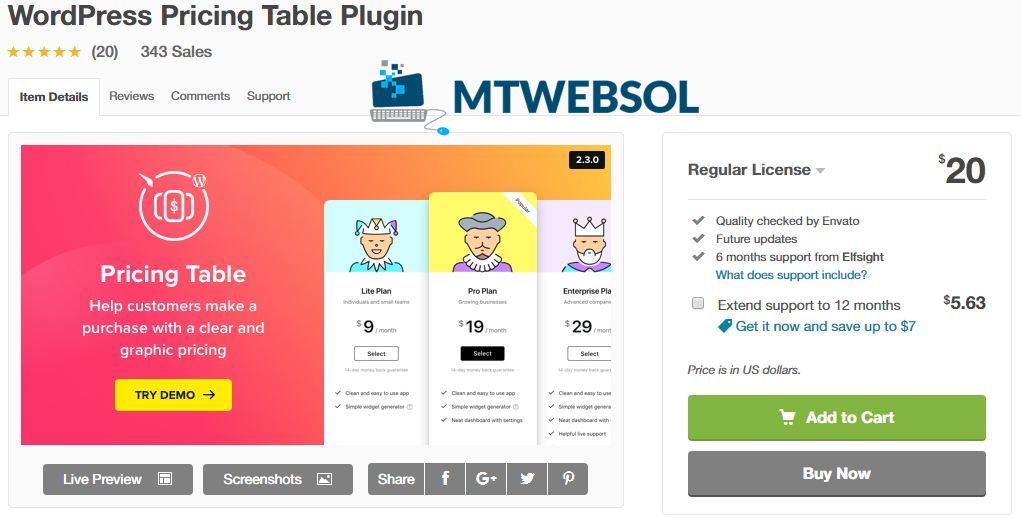 The plugin is simple just like its name. WordPress Pricing Table plugin does not collect any user data or cookies. It comes with all the efficient and latest pricing table trends which can boost up your conversion rate up to 200%, as they make decision making hell easy for customers. In a few clicks, visitor can create different pricing combinations and make up his mind to find the one that best suits him. Tables are 100% responsive and the layout of their columns and girds is totally in your hands. If you want, you can feature any single column. In order to prevent columns from blending into each other, you can add borders to them. Column corners can be rounded as well. Ordering of column elements is easy to manipulate and change. The colors and fonts are customizable. Buttons for buying and buttons for price are available and customization options can be used to make them look fabulous.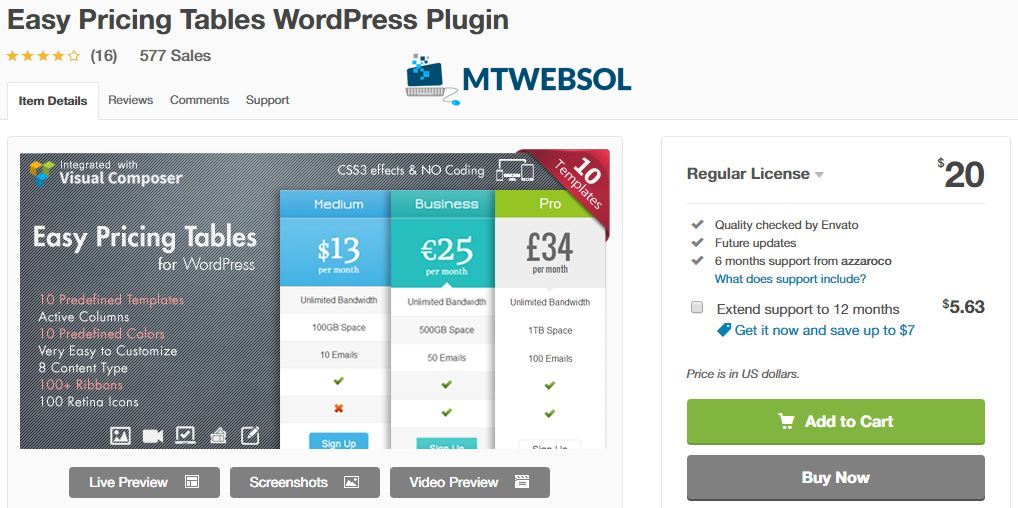 This is the latest pricing tables wordpress plugin in the market. It comes with predefined Themes, Colors and ready to use beautifully designed elements. Within few clicks, you can design your own pricing table.
There are 9 predefined content elements which are title, image, text, price, button, icons, video, HTML and short code. Moreover, you will have 5 hover effects, more than 100 icons and 10 color schemes. A visual composer is integrated as well.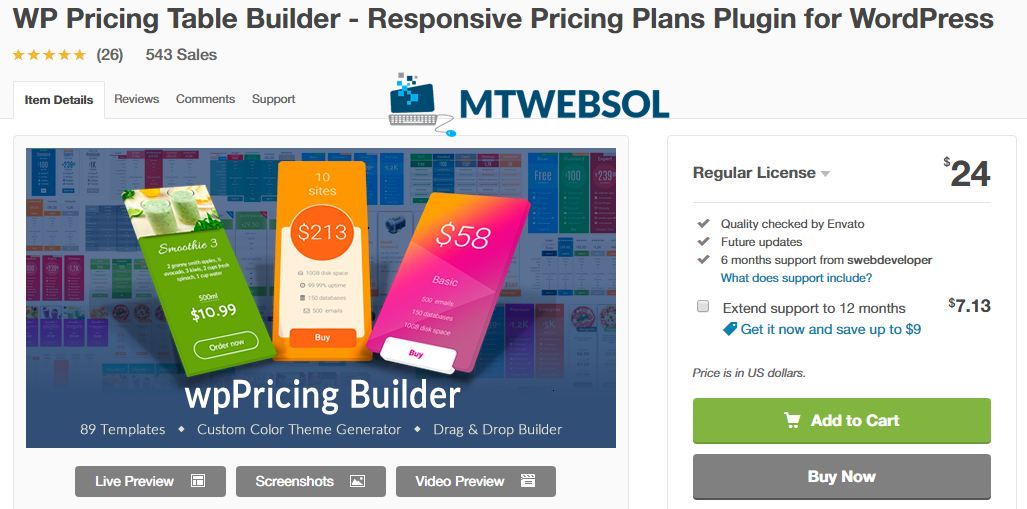 This is a complete drag and drop builder plugin which is used to create stunning pricing tables. There are nearly 100 pre made templates you get for free with the plugin. Demo content is available for each design. You can design your own color theme with custom color generator. Moreover, there are 12 tooltip positions. The plugin is well documented and compatible with bootstrap.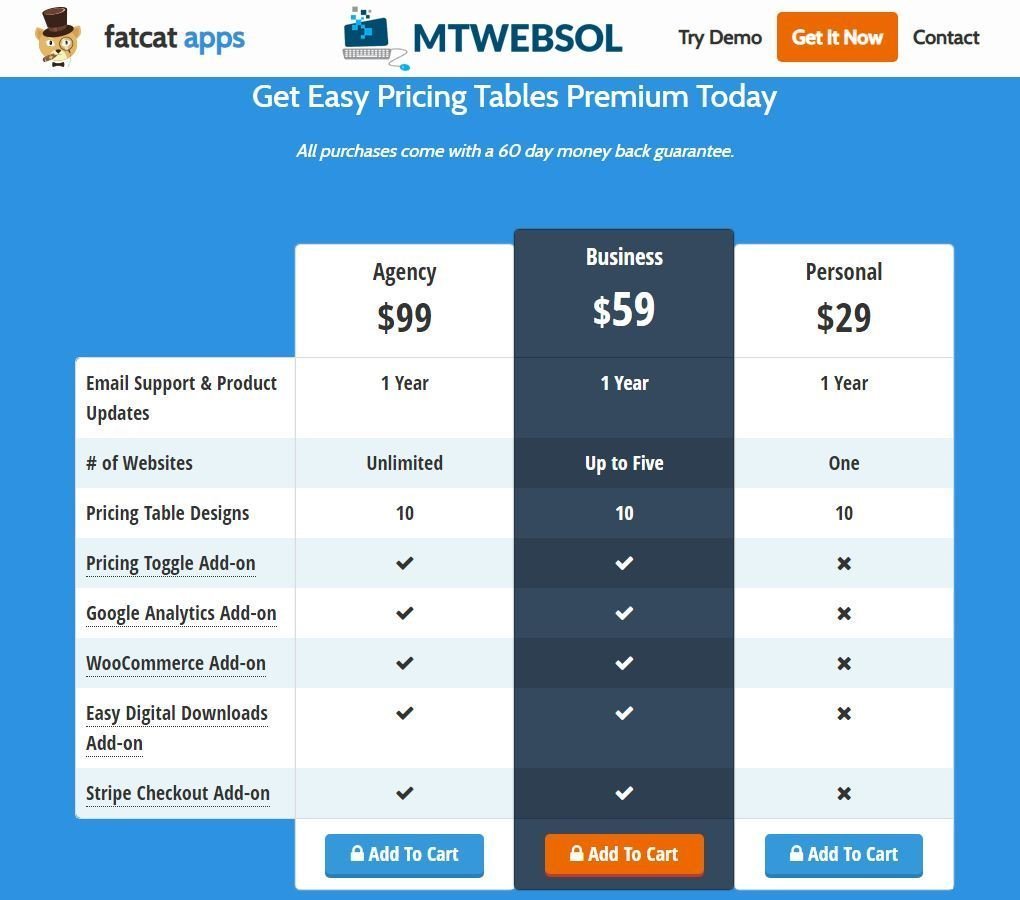 Easy Pricing Tables by fatcatapps is the most popular pricing table plugin, which is very handy for adding a pricing table to your WordPress website. It has marvelous powers of creating gorgeous designs that just sells. The table would instantly connect to your favorite shopping cart service, very easily. There are 10 gorgeous pricing tables templates for you to choose. Pick the one you like the most. All of these templates are fully responsive and look awesome on all devices. You can customize them as much as you want. Colors, font, size every thing can be changed. You can keep your pricing tables simple and clean by adding tooltips. The moment customer will hover over the tables, they will see all the information they need. Also, there is fast and friendly email support. You can ask any question or take any help whenever you need. If you like to display monthly and yearly pricing options in multiple currencies, it is also possible.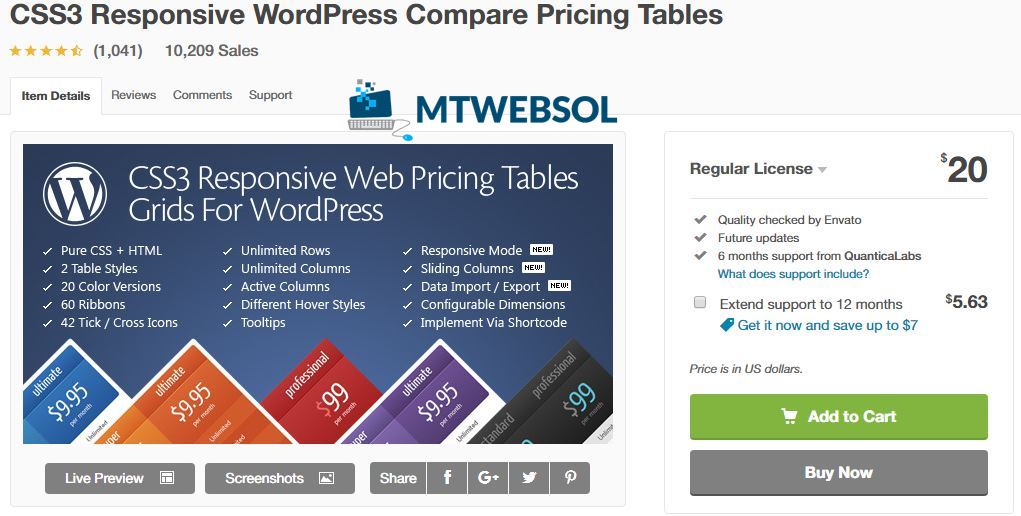 <
p class="t-heading -color-inherit -size-l h-m0 is-hidden-phone" style="text-align: justify;">A pack of pure CSS3 pricing tables with 2 table styles and 20 predefined color versions. These all versions come with tons of options some of which are intuitive admin panel with live configuration, mode configurator, plethora of options for columns, rows, cells etc. Rows and columns are sortable. Hide or disable any columns or rows whenever you like.