Top Reasons to Install a SSL Certificate on Websites in 2023
With the exponential increase of e-commerce and the internet in the present digital era, more and more cybercrimes are taking place all across the globe. Therefore, it is the moral duty of the website owners to keep the security and privacy of their customers in check so that they can have the ultimate shopping and browsing experience. But how?
Reasons To Have SSL Certificate on Your WordPress or WooCommerce Site in 2023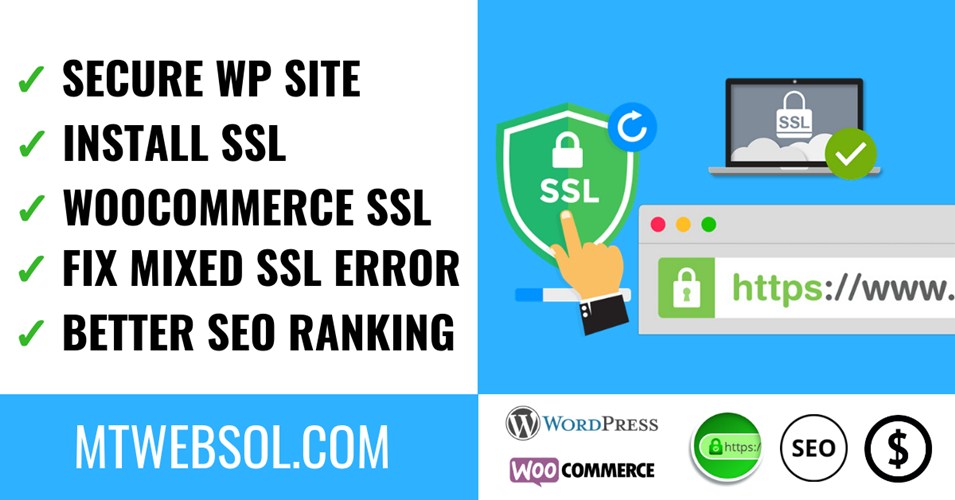 As a matter of fact, WordPress, which is a content management system, powers almost 27 percent of the internet including a number of websites that requires a client's personal and financial information. Although WordPress is a very user-friendly, fast and easy to use the system, however, there are certain evidences showing its security flaws. Broadly speaking, the security flaws in WordPress could be:
SQL Injections
File Inclusion Exploits
Brute Force Attacks
Malware
Cross-Site Scripting
That is the reason it has become very important for the website owners powered by WordPress to have SSL certificates these days. Here's why your WordPress needs one in 2019:
Before diving deep into the reasons why your WP site needs an SSL Cert, let us first discuss what ab SSL Certificate actually is. Being used in the security context, SSL stands for "Security Sockets Layer" that acts as a layer of encryption placed between a web server and someone trying to access content on it. This means an SSL certificate protects the exchange of information that takes place between a server and a user by utilizing a set of cryptographic keys: one public and one private.
So in addition to security, here are some reasons why your website needs an SSL Certification:
1: A Security Standard for Google + SEO Benefits
While Google boasts of making the web a more secure place for the users, an SSL certificate makes it possible in the real time. From the July 2018, Google has started decreeing websites without an SSL certificate as "Not Secure". So if you are looking for a reason strong enough to get one for your WordPress website, we think you have got what you are looking for. You will definitely get SEO Advantage over your competitors and will get better ranking positions for your search keywords, if you have installed a SSL Certificate on your WordPress Website or WooCommerce Store.
2: Without It, Your Website is "Not Secure"
If Google would not find an SSL Certificate in your website, it will label it as "Not Secure" and will display a Red Warning, that is definitely not what you want your users to see.
3: Additional Trust Marks
As a matter of fact, some SSL certificates offer you additional trust marks to place on your website (like Symantec placing the Norton security seal at checkout) that will surely make an impression on your clients regarding the security measures of your website.
4: Your Clients Will Feel Safe
Once you have acquired Green signal and "Secure" label for your website, your clients will feel safe and free to shop around or use your services. It will not only build trust in your brand but also can do wonders for your business.
<
p style="text-align: justify;">So now that you know why you need an SSL Certificate for your WordPress powered website or WooCommerce powered online store, you need to get one ASAP before it is too late.