10 Benefits of Building Online Book Store Website in 2023
If you believe "there is no friend as loyal as a book", you, my friend, is a true book lover. Apart from facilitating sound knowledge and a sense of living, books are a great source of entertainment and fun for the readers. As rightly said, "Books are a uniquely portable magic" that you can carry along with yourself anywhere, any time.
So if you are a one book lover and want to begin your career without compromising your love for the books, starting an online bookstore is the best option you have got. It is way too easy to Start an Online Store Website with WooCommerce. Here are the 10 benefits of building an online bookstore website.
10 Benefits of Building an Online Bookstore Website in 2023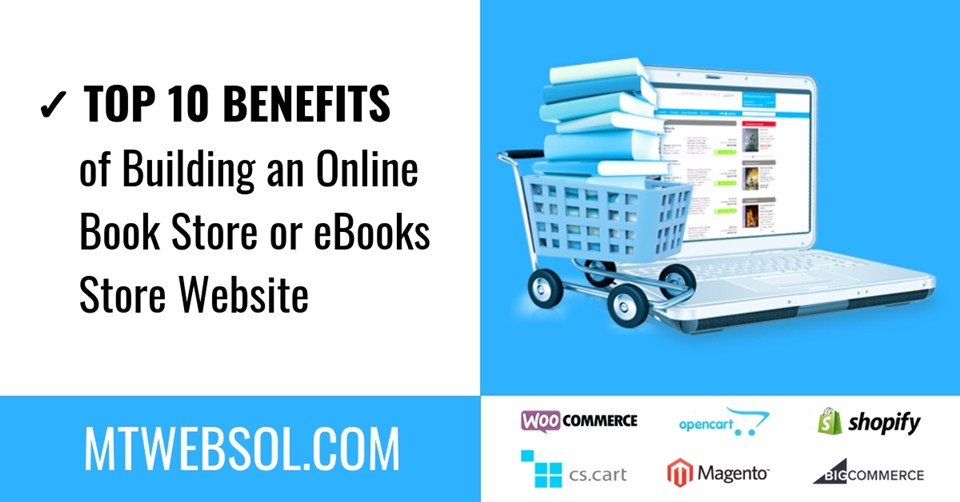 As a matter of fact, the ease of getting what they need has suddenly shifted the trends towards online stores. People simply go online, find what they need and get it delivered on their doorsteps. Whether it is clothing or shoes, accessories or even books, people want to get everything with an ease of placing orders at a single click.
So if you are contemplating why an online bookstore website is a way to go, we have got you covered with its 10 benefits. Scroll down and check them out.
1: You Don't Need a Physical Store
When you opt an online business instead of a physical store, you can save yourself from the hard work of searching for an ideal store at an ideal location and evaluating the space for your collection. All you need is to order an Online eCommerce Store Website, Start Uploading your product or service catalogue and you are done.
2: Save Cost
In addition to saving your sweat for finding an ideal store, you will eventually save thousands of dollars indirectly. When you go for a physical store, you will have to pay for furniture, its presentation, its staff, its appearance, its license and this will roughly cost you a fortune that you will never be able to earn with a single business. And on the other hand, going for an online bookstore website will save you the money for the longer run.
3: Save Time
By opting an online bookstore website, you can save your time as well. You don't have to be present around all the time. You can run your business from your home, your full-time job or even from a vacation resort. Great, isn't it?
4: Be Your Own Boss
Another benefit that you will get by setting up an online bookstore is that you get to be your own boss. There will be no boss buzzing around your head to do a particular job, instead, you can do all you want at your own pace and earn at the same time.
5: Keep Your Passion Alive
With an online bookstore website, you can keep your love for the books alive. You can grow in the community of your own taste and preferences and you can do what you love.
6: Easy to Operate
With the increase in tech and digital things around, everything has become a piece of cake. You can handle the website even if you don't know a thing about them. There are different plugins available and intuitive interfaces that make everything easy to operate.
7: You Can display Your Own Work as an Author
Readers are good writers too. So if you are one of those people who love to write and share your work with others, your online bookstore is the best platform to avail. With this opportunity, you can get exposure of your work to people all over the world – not just your friends and relatives.
8: You can Get Reviews
With the great quality and services, you can get positive reviews from the readers that will increase your credibility. If other buyers have seen your book's praise, they'll be more likely to purchase it. At a traditional bookstore, customers can't read reviews of books they're considering buying.
9: You Can Earn Exponentially
Without doing much efforts, you can earn more. Digital Marketing has a huge potential to grow up your books store website to an amazing level.
10: E-Books Feature
Another plus that online bookstore has got over physical stores is the E-books feature that will let the users and readers buy books and get them downloaded right on their PCs and mobile phones, that is not possible at physical stores.
Buying books have never been this easy before. Right?
Looking for Complete Book Store Website Development Packages that include domain name, web hosting and eCommerce Website Development? MT Web Sol Quick Shop is here to set up everything for you. Our team has 5 years of experience with Latest Web Technologies and we are proud to serve our valuable clients globally. Get in Touch to discuss your project today!