Review: AmaLinks Pro | Best Amazon Affiliate WordPress Plugin
The internet has provided us with a number of ways through which you learn and earn at the same time. Besides blogging, freelancing, and social media promotions, you can earn your bread using the affiliate marketing. In fact, many people are making money with Amazon affiliate marketing and most of the people are turning towards it because of many good reasons – You don't have to do anything, simply promote the products on your website and earn commissions by sitting at your home.
Want to know what Amazon Affiliate Marketing is? Do you want to make more from Amazon affiliate marketing using AmaLinks Pro? We have you covered. This post will highlight the best way to use affiliate marketing in order to earn lucrative passive monthly profits. Scroll down and earn!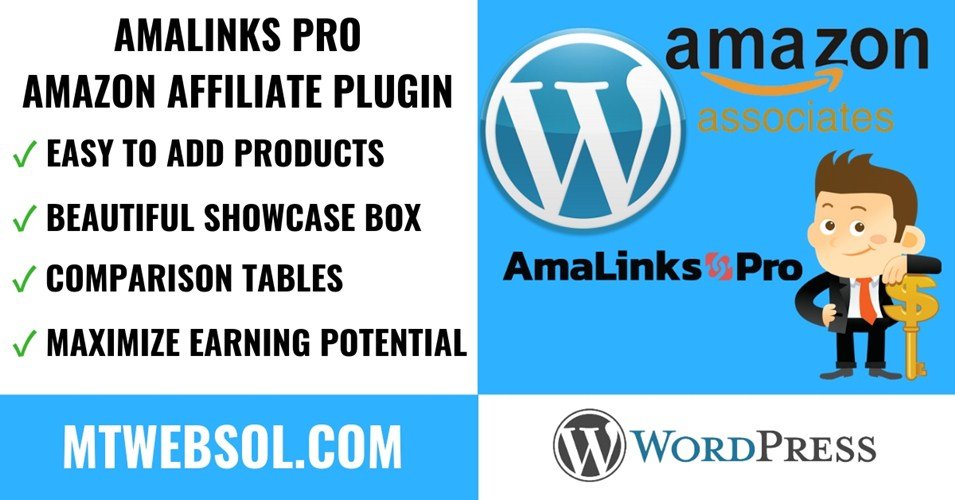 What is Amazon Affiliate Marketing?
Before you dive into the process of making more using AmaLinks Pro, the first thing you need to know what Amazon Affiliate Marketing is and what the tricks through which you can earn potential passive income are. For those who don't know, the Amazon Affiliate Program is a money-making system that Amazon used to get more people on their website. The company pays its associates or affiliates a commission when they are referred to Amazon via Amazon Affiliate Websites. This commission is paid after the directed customer buys products from Amazon.
In addition to Amazon, there are tons of affiliate schemes like MT Web Sol's Affiliate Program, ClickBank.com, ShareASale.com, Cj.com, and similar ones that allow you to earn profits by applying little efforts.
However, like any other money-making scheme, amazon affiliate marketing requires some tips and tricks to get more out of it. You need to apply all methods including:
Text Links
Product Showcases
Call-to-Action Buttons
Image links
Product Comparison Tables
in order to generate extra passive income. Fortunately, AmaLinks Pro for WordPress has got everything that you need to become a successful affiliate and also to run a successful Amazon affiliate website. Do not forget to check out Top 11 Best Amazon Affiliate Plugins for WordPress and Top 10 Ways to Start Your Own Micro Niche Amazon Affiliate Website.
AmaLinks Pro – The Best Amazon Affiliate WordPress Plugin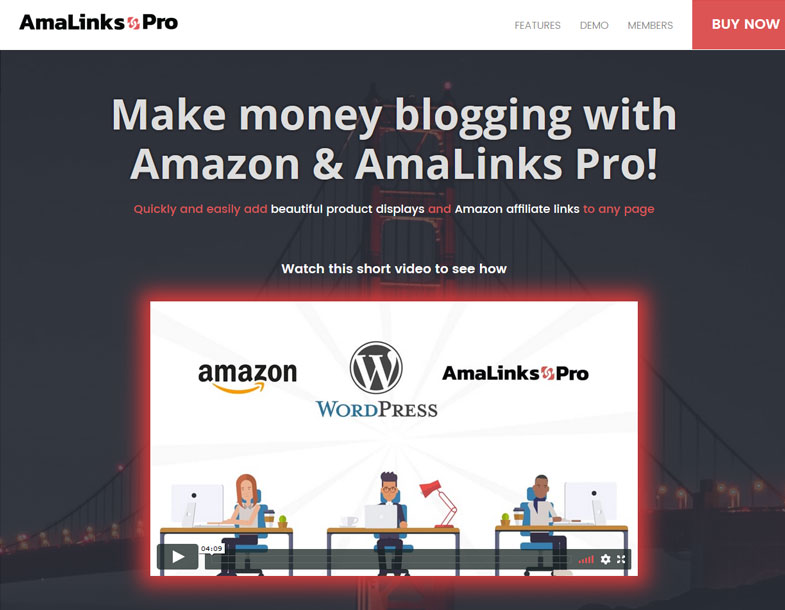 Everyone like some extra profits, especially when you don't have to put much effort into it. Using the AmaLinks Pro Plugin, you can earn lucrative profits while putting the least efforts on the website. According to a recent survey, Amazon is currently having 562,382,292 products up for sale and the numbers are increasing daily, at exponential rates. Moreover, around 4,193,290,237 websites are linking to Amazon and out of which approx. 76,500,000 are running on WordPress.
This is because of the fact that WordPress offers hassle-free content management and tons of plugins that will allow you to save your time and effort while increasing your sales on the go. Among these plugins is AmaLinks Pro that allows you to customize your content and thereby increasing the profits and commissions effortlessly. The plugin allows you to easily insert Amazon affiliate links like:
Text Links
Image Links
Product Showcases
Call-to-Action Buttons
Product Comparison Tables
AmaLinks Pro Works Without Amazon Product API
AmaLinks Pro now offers image galleries with amazon affiliate links
The plugin is really easy to use that is fully compatible with WordPress and works seamlessly with the new "Gutenberg" Block Editor and Classic Editor. In addition to that, the key features that are included in the box are: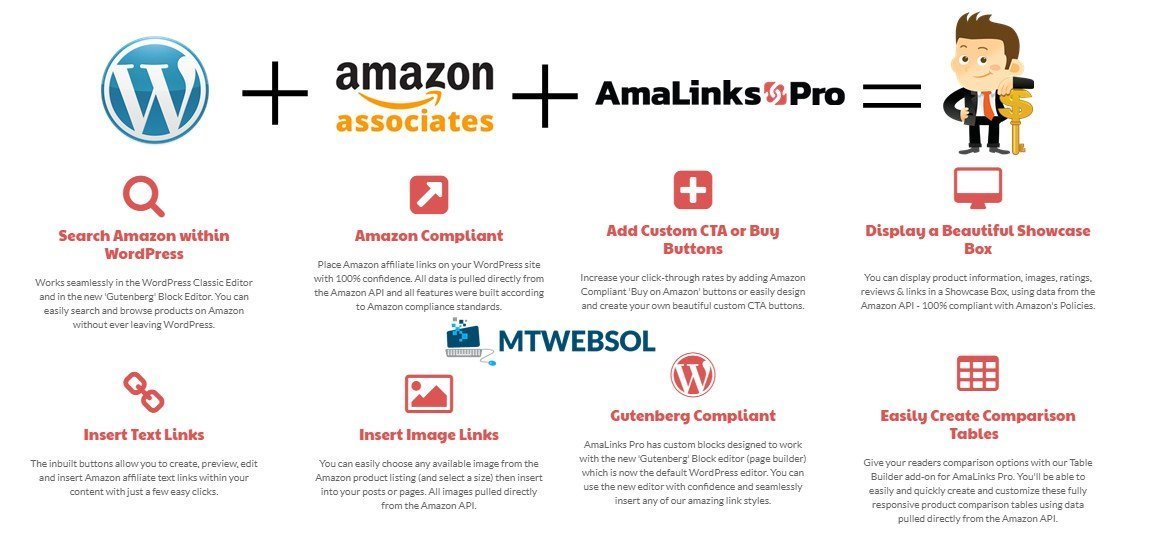 AmaLinks Pro In Action
AmaLinks Pro Full Demo Tutorial | Best Amazon Affiliate Plugin with Table
AmaLinks Pro Table Builder In Action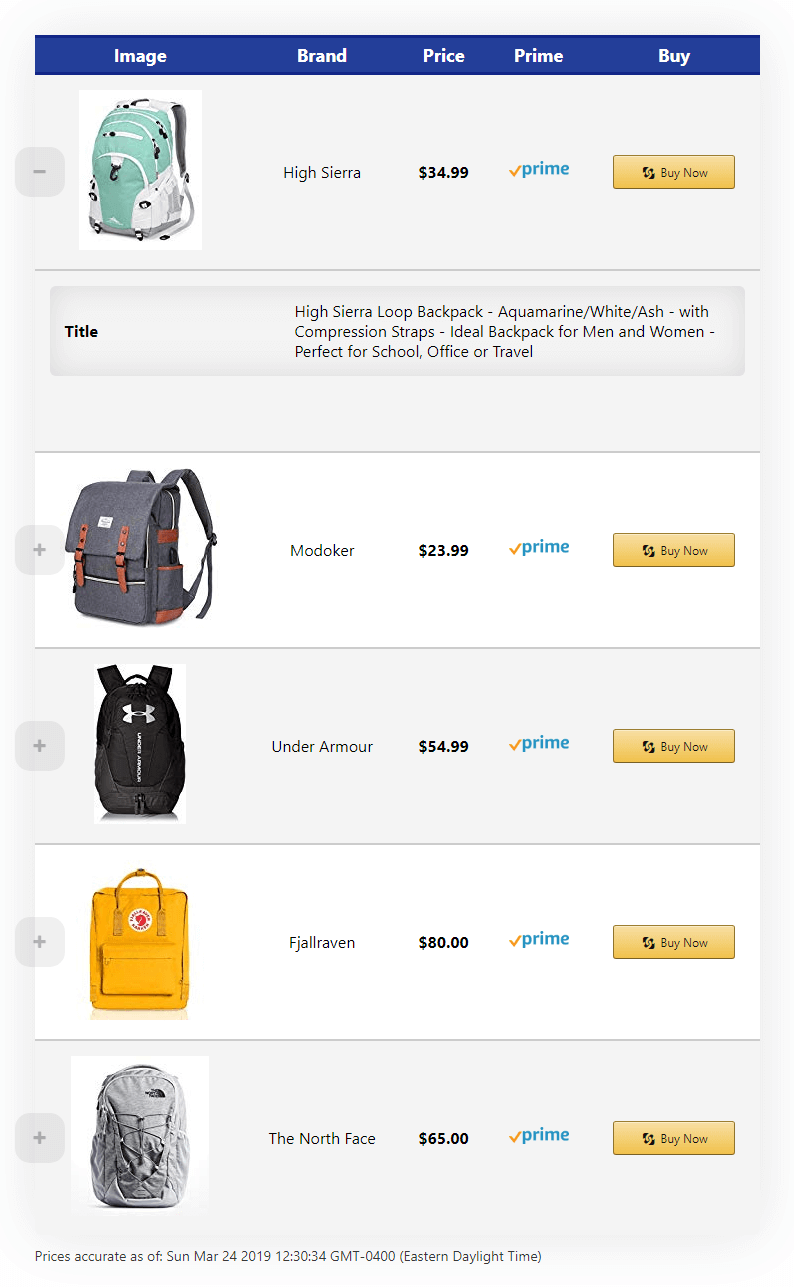 The Key Features Included in AmaLinks Pro Plugin 
Making money has never been this easy before. The AmaLinks Pro Plugin comes with the following key features:
1. Search Amazon Within WordPress
You don't have to go through the technical aspects of the website or customize the links in order to access Amazon on your site. Yep, the AmaLinks Pro plugin allows you to search the Amazon products within the WordPress post editor. All you need is to simply click AmaLinks Pro button on the post editor and start searching the products you want to add in the post. You don't need to leave WP again to search and insert products.
2. Insert Text Links
Another amazing feature that allows you to save your time is the insert Text Links feature. The feature allows you to create, preview, edit, and insert Amazon affiliate text links within your content in just a few taps. In addition to that, this plugin gives you the flexibility to insert text links directly within your website, on the go.
3. Insert Image Links
In addition to text links, the AmaLinks Pro Plugin allows you to insert the image links directly to your post as well. You can easily choose any available image from the Amazon product listing and add it in your content, in order to appeal the customer and make your post look unique and personalized. All the images added in the post is directly pulled from the Amazon API, using this plugin. You don't have to upload the images or wait to download them one by one. Simply insert the links and boom, there you have it.
4. Table Builder For Amazon Products
Apart from these basic features, the best thing that we love about the AmaLinks Pro is its Table Builder feature that allows the webmasters to create tables for Amazon affiliate products, on the go. Although, there are products that can help you create the tables as well, but either they are really difficult to use or they might not give a beautiful appearance to post. Fortunately, AmaLinks Pro's Table Builder offers customization options, in addition to the ease of use and beautiful in looks.
5. Add Custom CTA or Buy Buttons
AmaLinks Pro plugin also allows you to add Custom CTA or Buy Buttons on your WordPress post effortlessly. This will not only allow you to customize the posts but also lets you increase your click-through rates by adding Amazon Compliant buttons. If you don't like the "Buy on Amazon" buttons, you can create your own beautifully created custom CTA buttons.
6. Gutenberg Editor Compliant
As mentioned earlier, the AmaLinks Pro plugin is Gutenberg compatible that has custom blocks designed to work with the new 'Gutenberg' Block editor (page builder). It has now become the default WP editor. You can use this new editor with confidence and without any hassle using AmaLinks Pro Plugin. You can also insert any of your amazing link styles using this plugin.
7. Display Beautiful Showcase Box
The best way to attract the customer and the audience is through the presentation of the website and posts. This is what AmaLinks Pro Plugin understands the best and allows you to display everything regarding the products, beautifully. You can display images, product images, ratings, reviews, and links in the showcase box. All the data is 100 % compliant and is pulled directly from Amazon API.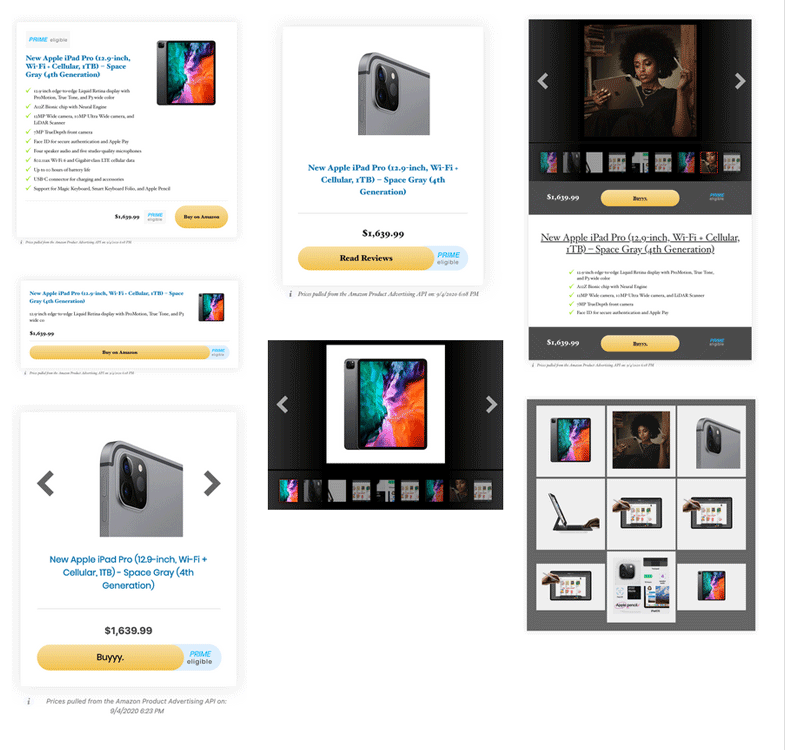 8. Fully Responsive Comparison Tables
In addition to that, the AmaLinks Pro allows you to create customizable and fully responsive comparison tables within just a few minutes. All the data and information regarding the products is pulled directly from the Amazon API. Moreover, the plugin allows you to make use of advanced styling and settings in order to match the tables according to your needs and requirements or according to your site. You can also create unlimited comparison tables using this plugin. Great, isn't it?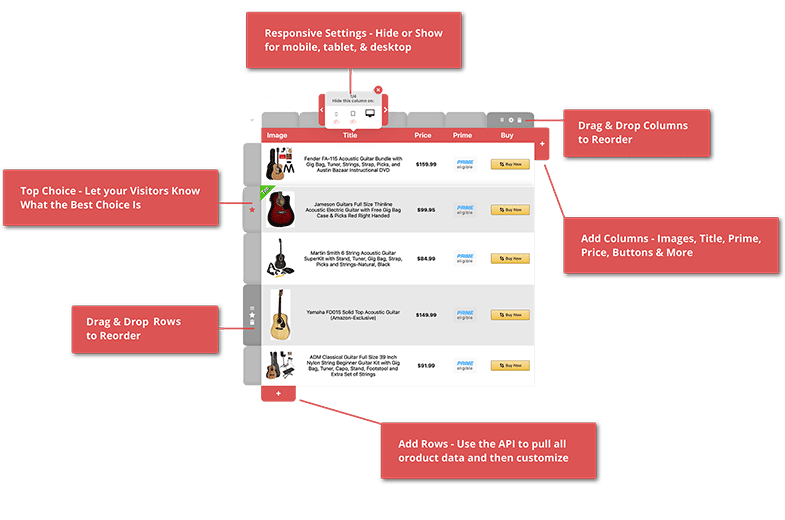 9. Easy to Use
The best part about this plugin is that it offers a really easy to use interface, that allows even the beginners to increase their workflow without wasting their time. Moreover, the support team of this plugin is efficient, and highly cooperative that will solve any of your queries within half an hour.
10. 90 Days Cookie To Earn More Commissions
With AmaLinks Pro you will get the opportunity to maximize your earning potential. If you will enable the option to add amazon products directly to the cart using AmaLinks Pro; you will get 90 more days period; if the buyer comes back within this timeframe and buys that specific product or even buy other products; you will be earning the commission against those new products too.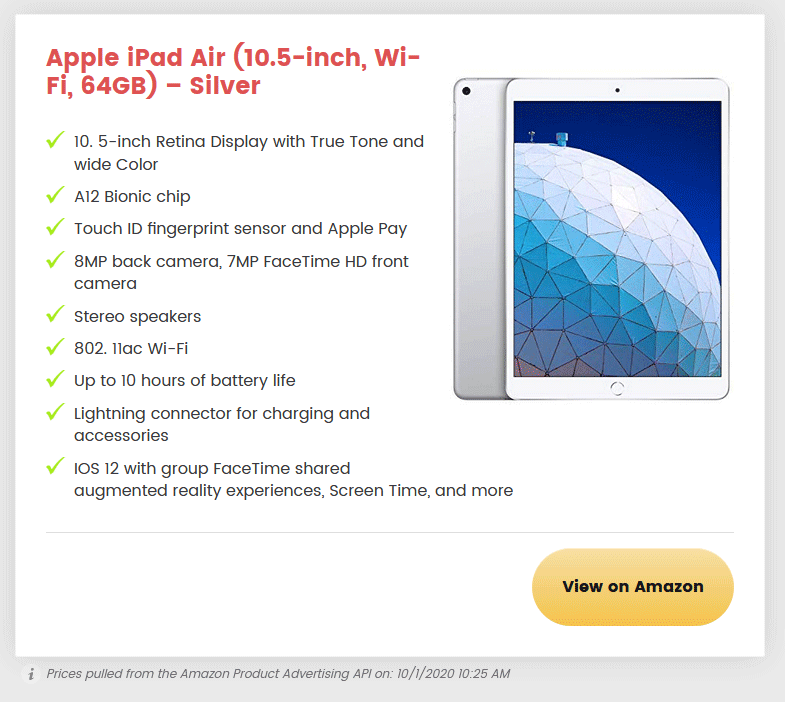 How Does AmaLinks Pro Plugin Work?
Now that you know what AmaLinks Pro Plugin is and what is its purpose, take a look at how AmaLinks Pro works for WordPress:
1. Install the Plugin
Like any other plugin for WordPress, you need to install the AmaLinks Pro for your WP. You need to upload the installed plugin file into your WP plugins.
2. Enter the License Key
Once you have installed the plugin file into the plugins section, you need to activate the plugin by entering the license key. The key will be provided to you by the company via email once you purchase it.
That's it! You can now get benefited from the amazing features of the AmaLinks Pro plugin for your WordPress.
The Pricing Options for AmaLinks Pro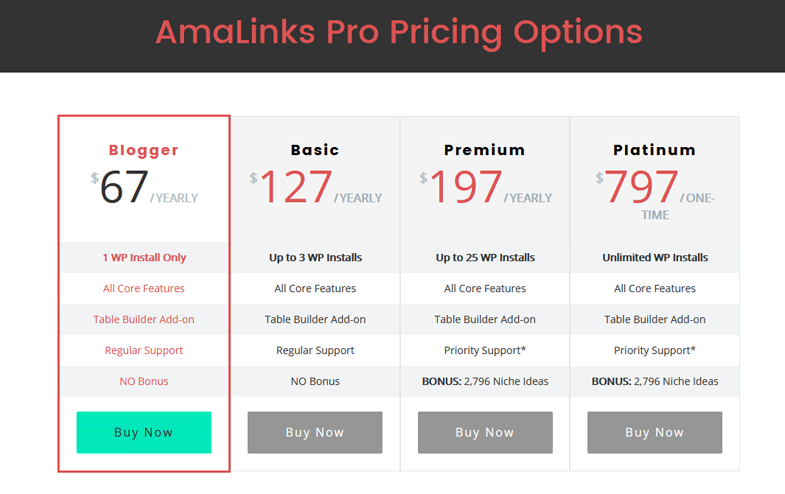 AmaLinks Pro, just like its features, offers the best pricing options for the associates. In fact, it is one of the best priced Amazon Affiliate WordPress Plugins on the market. The plugin offers four different pricing options, including:
Blogger – Blogger is the most affordable pricing option available for the associates as it costs only $37 per year and it can be used on up to 1 website. The table builder is now included with the blogger version. 
Basic – Basic plan starts with $67 per year and can be used with 3 wordpress websites along with table builder.
Premium – This option costs $197 annually and it can be used on up to 25 websites and provides you with access to each and every feature available including table builder.
Platinum – This option costs a $497 one-time fee with free updates forever. You can use the plugin on unlimited websites and it allows access to every feature including table builder.
In addition to that, AmaLinks Pro also comes with a 30-day money-back guarantee so that you can enjoy and try the plugin with no risk.
The Pros & Cons of AmaLinks Pro Plugin
Here's what we like and don't about the AmaLinks Pro Plugin:
Pros
Plenty of features
Easy to use
Intuitively designed workflow
Beautiful showcase box feature
Fully responsive table builder
100 percent compliant with Amazon
Shortcodes for every type of link
Plenty of innovations
Affordable pricing options
Now works without Amazon Product API Key
Image galleries with amazon affiliate links added
Final Words About AmaLinks Pro WordPress Plugin
If you want to run a website using amazon affiliate links, AmaLinks Pro is the best thing to get. The plugin, not only provides you with every feature that you will need to create high converting product reviews but also allows you to attract more traffic towards your blog, thereby allowing you to earn effortlessly. Moreover, the support team for AmaLinks Pro is also amazing. They answer every single query of yours in less than an hour.
In a nutshell, AmaLinks Pro is the best available plugin for your Amazon Affiliate WordPress site that helps you increase your Amazon affiliate income. No matter which version or pricing option you choose, it is totally worth the price.