Top 5 Best Contact Form Plugins for WordPress Website Development
Are you in search for any good contact form plugin for your WordPress site or blog. You have googled and found hundreds of good plugin, but you are confused which one to download? If your answer is yes, than this article is for you. We will briefly analyze the pros and cons of of top 5 best contact form plugins for WordPress website Development.
Top 5 Best Contact Form Plugins for WordPress Website Development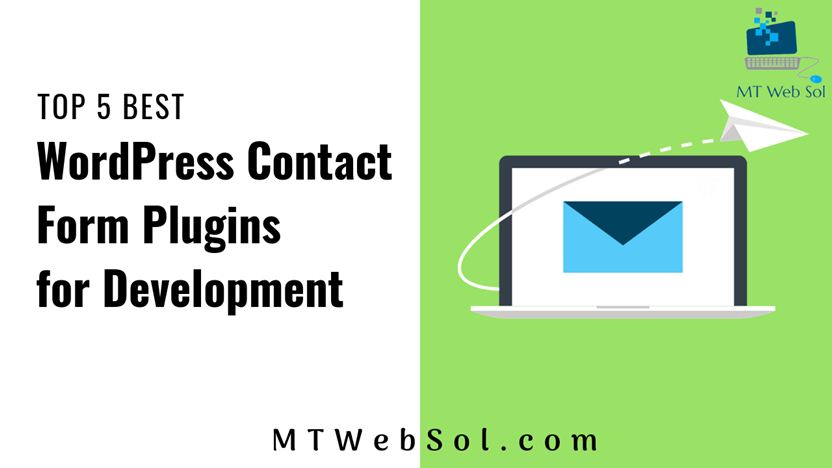 1. WPForms Contact Form Plugin For WordPress
When it comes to user friendliness, there is no plugin like WPForms. It was built by the team that built famous website wpbeginner.  It is online builder which comes with drag and drop features to ease your life. The free version which is referred as WPForms Lite. It is available in official WordPress Plugin directory. So you can install it on as many sites as you want.
If you get the premium version, you would definitely be able to extend the functionality. Now, you can build multi-page forms, email subscription forms, payment forms, order forms, use smart conditional logic, and much more. You can create custom captchas for your form. Surveys & Polls can be created to analyze data with interactive reports. The number one goal of the team of developers was to make WPForms easy to use. It certainly lead to the advantage of easy interface, but it also caused absence of some advanced features offered by other plugins.
Gravity Forms is a one of the best paid contact form plugins which comes with all advanced functions you want in your contact from plugin. It is a very advanced and powerful plugin, which can be used to create surveys, quiz, user submitted content and web directory with the help of add-ons.
You can build contact form within minutes. It gives you very easy and quick form building facilities. There is a premium support for FAQs, knowledge base, forums and email support. Gravity Forms can be easily integrated with numerous popular web applications and online services like PayPal, Zapier, Survey and emma.
There is no free version of Gravity Forms.
3. Pirate Forms Contact Form Plugin For WordPress
This excellent Contact Form Plugin for WordPress is developed by team Themeisle. It comes with very easy to use and setup interface. It comes with all features needed to create good contact form like captcha, SMTP etc.
Plus, you can easily customize the forms in any way you want. You can change field labels. You can also decide what message to show your visitors when there is any error. Pirate Forms is also short code ready. In new version, you can even submit form using AJAX. You can store contacts in database.
Some advanced features like subscription forms and payment integration are not available. Also there is lack of add-ons. But if you do not need them, you will definitely appreciate the simplicity of interface.
4. Ninja Forms Contact Form Plugin For WordPress
Ninja forms is one of the most powerful, functional and flexible contact form plugins. It is a freemium plugin that helps you to build beautiful contact forms.
There is helpful community support as well as documentation. You can add Ninja Forms to your site with a widget, shortcode, template function, or append it automatically to any content you choose. It is totally translation ready to provide ease for other languages. Ninja Forms is also extremely friendly for developers. Hundreds of functions, action hooks, and filters are there for them to help create their unique features.
There is no limitation on the number of forms, fields, emails, actions, or submissions. You can modify your own field and save it as favorite for re use. After user completes the from, he can be sent a success message or directed elsewhere easily. There are several anti spam options. You can integrate Ninja Forms with variety of platforms.
Formidable Pro is an amazing plugins whose popularity is increasing day by day. You can create any kind of contact form you want. Whether it is single page or multiple page. Forms can be created with conditional logic, calculations and file uploads.
It is also available for free just like Ninja Forms. It comes with all WordPress form builder features. You can create complex forms with simple drag & drop. You can format, filter and display the data submitted via your forms in custom Views. There are repeatable fields which allow your users to add a new set of field, if they think necessary.  You can add radio buttons, check boxes or drop down boxes. Complex calculations are too easy now with Formidable Pro. You can give instant online estimates, or calculate interest for products. There is an option for displaying statistics in form of graph or chart.
Which one is the Best Contact Form Plugin for you?
All plugins we have told you about can provide the basic functionality of contact form. If you want to know, which one is the best plugin, than to be honest, there is no specific answer possible for this question. It depends on every person's own thoughts and priorities, what he wants out from plugin. We can just give some statements about which plugin you should download in different situations. If you are a developer, you should not even think about any other plugin and just download Ninja Forms or Gravity Forms. If you are a novice, do not want to invest too much, its better to go for WPForms Lite. If you are a business owner and can invest, the premium version of WPForms might suit you. You might face issues of emails not being sent or any errors while your clients want to reach you via your contact form. In that case, you should also have a look at Top 5 Best SMTP Mailer Plugins to Fix Email Delivery Errors on WordPress Sites.
If you are looking for WordPress Website Development services, we are here to serve you. Get in touch to discuss your project.