Top 8 Best Related Posts Plugins for WordPress Website Development
We are living in the era of information bombardment. People are getting new updates so often, that they can get distracted from your website very easily. According to surveys, nearly 55% of your site visitors, when hits your website, do not spend more than 15 seconds in judging your site. Or they leave after reading one post. As a web master, it is a challenge to increase page views and decrease bounce rate. You have to show related content to users and that is the only effective way. So in today's article we will tell you about top 8 best related post plugins for WordPress Website Development. 
Top 8 Best Related Posts Plugins for WordPress Website Development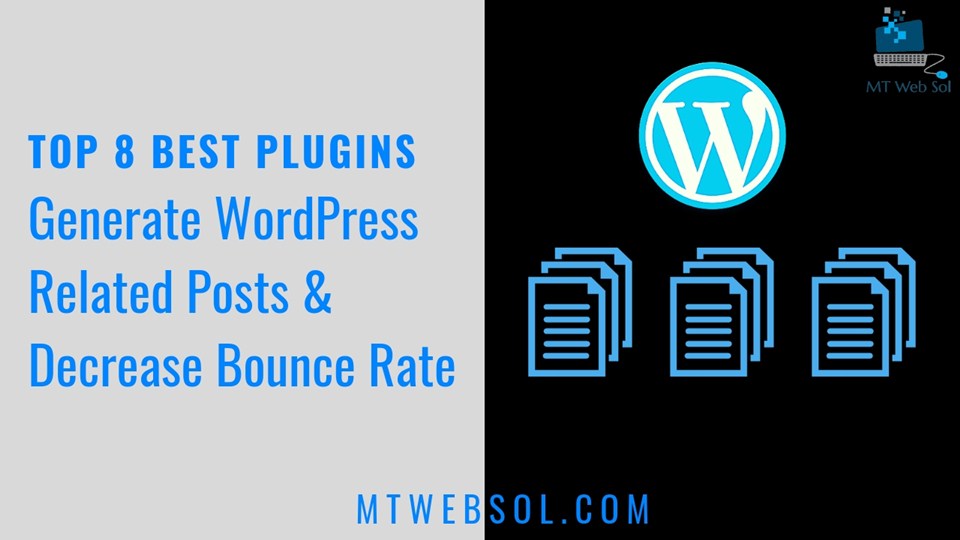 1. Contextual Related Posts WordPress Plugin by WebberZone
Contextual related posts plugin is an efficient WordPress plugin which is used to display related posts. It improves relevancy functions by matching posts contextually. It works out of the box for text only related posts. with much simple settings. It may use images inside a post as thumbnail when no featured image or post thumbnail is found, but it does not come with any template to display thumbnails.
Contextual related posts is a powerful plugin, that displays a complete list of related posts on your website and feed. This list is based on the content of the title and/or content of the posts. Thus posts become more relevant and more likely to be of interest to your readers. In this way it enables you  to retain visitors, reduce bounce rates and refresh old entries. You can also add related posts to widgetized area of your theme.
Better Related posts is a premium and lightweight plugin, which may not be much sophisticated or have analytics and elegant design, yet it provides you a lot of options to customize by yourself.
It comes with 12 advanced customization options for changing the style of your text, image thumbnails, and a lot more. All to help you make the related post widget fit right into your blog. It just blends itself into any wordpress theme. You can choose to show excerpts, authors, comment count, etc. One negative point is that it might be difficult for beginners to install. Also, widget can only be shown on bottom of blog posts.
3. Related Posts Thumbnails WordPress Plugin by WPBrigade
This excellent plugin adds related posts thumbnails after the post. You can also customize thumbnail sizes, display settings and type of relation. It by default, uses  generated by WordPress thumbnail for the first image appeared in the post, that was uploaded on the server with sizes as set in Media settings.
You can choose between 'thumbnail' and 'medium' size options. You can specify custom thumbnail size, if your theme supports Post Thumbnails feature introduced in WordPress 2.9.
A very good premium plugin which is designed for showing related posts under your blog posts in stylish manner. You can use it for many different content types including custom post types, multi-sites, categories, terms, and a lot more to help you show accurate related posts. From widget design, you can choose from 65 different themes. Plus, there are three beautiful layout designs. You can show related posts in either a beautiful Polaroid design, a slide-style design, or a large transitioning style design.
Related Posts Pro is slightly more heavy as compared to other plugins.
5. Inline Related Posts WordPress Plugin by IntellyWP
This plugin is much different from other plugins on the list. It displays the related posts inside your article, not below content like traditional related posts plugin. That is why it is called inline related posts pro and this style is really popular among news and blog websites. This way users see the related posts when they are more engaged to content, which increase the chances of being clicked. Setup is easy and you have total control over where to put the related links, inside the article.
If you just want to put the related links at the end of posts, no matter what than you have to go for some other plugin.
RelaZone means Related Amazon Products Plugin. This plugin would help you to advertise Amazon Related Products  on your blog. You will be able to earn advertising fee from Amazon Associates.
You can monetize your blog easily and earn commissions from Amazon affiliates. There are 6 front end templates and too many custom fonts. It is fully compatible with WordPress and WooCommerce. You can link Amazon Products to your posts or pages using keywords. Also, you can create rules to link Amazon Related Products with posts or pages. You can also select to display Amazon Price or other vendor prices. It is super easy ind related products for your website by creating custom rules linked to Categories, posts, pages, shop products and tags by using keywords.
Speaking technically it is not related posts plugin. It is an advanced plugin, that shows related Amazon Products.
7. WordPress Related Posts Plugin by AddThis Team
Installing the WordPress Related Posts Plugin from AddThis, you will be able to encourage your visitors to read more content and visit more pages of your site. You can easily recommend the most popular content of your site and what is most relevant to your visitors. Widgets and shortcodes are available.
You can customize the title and choose between light, gray, dark and transparent themes. Related content appears as user scrolls down the site. You can position this tool on either the bottom left or right side of your site.
8. Related Posts For WordPress Plugin by Never5
Related Posts For WordPress allows you to link related posts to each other with one and only one click. Installation wizard saves much of your time. It activates the plugin and set the amount of posts that should relate and press the button. This is a very efficient plugin which never never slows down your website. It automatically links your posts.
The extra features are cross custom post type support, over writable templates, custom taxonomy support, adjustable weights, priority email support and full styling control with configurator.
Final Words
Let's clear that some of these plugins might not work well on shared hosting as most of the related posts plugins are resource intensive. You will have to go for Manual Related Posts plugin. Also related posts plugins sometimes increases the loading time of your site. But still you should go for them as they are helpful in increasing traffic. We suggest you to cache the output of related posts plugins or use WordPress Optimized or Managed WordPress Hosting for much better performance.
If you are looking for Complete WordPress Website Development Packages that include domain name, web hosting and website development, MT Web Sol Quick Shop is here to set up everything for you. Our team has 5 years of experience with Latest Web Technologies and we are proud to serve our valuable clients globally. Get in Touch to discuss your project today!