Gutenberg Block Editor for WordPress New Features & Ease of Use
Gutenberg Block Editor For WordPress Overview
There is no WordPress text editor better than Gutenberg Block Editor For WordPress. Its new features have made it more easy to use for you. In today's article we will briefly discuss, Gutenberg Block Editor for WordPress and its New Features.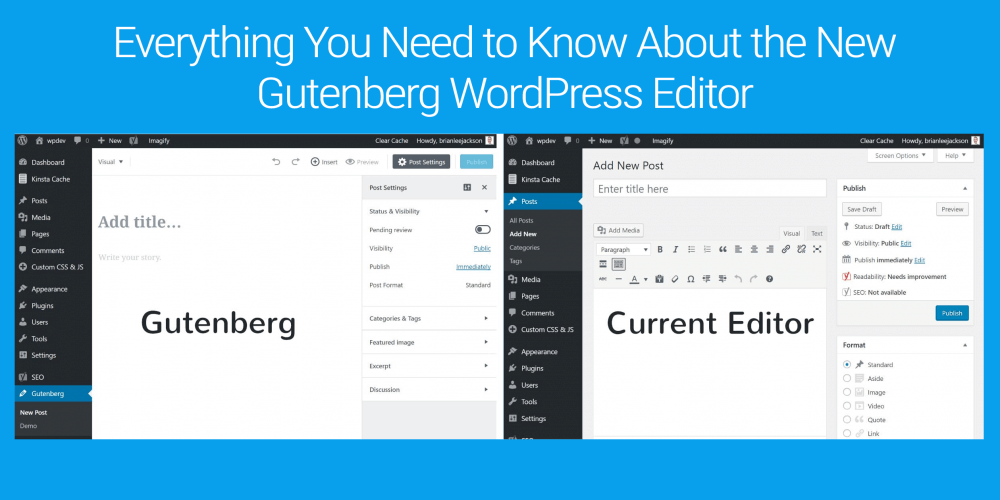 Gutenberg is not merely a text editor but much more than that. Gutenberg block editor comes with blocks to simplify the process which is complex because of short codes or custom HTML. It creates a new page and post building experience which makes the process of post writing super convenient. Create modern multi-media heavy layouts for your WordPress site.
Gutenberg Block Editor For WordPress Features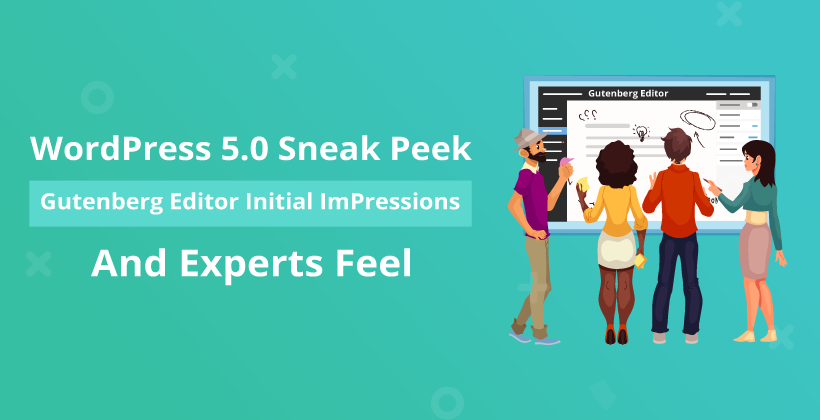 1. NEW LOOK Gutenberg changes the whole editing area rather than just content field. It looks at the editor as more than a content field. As the layout of WordPress has not been changed for a long time.
2. BLOCK The block converges multiple interfaces to one point. Adding it to the top of interface might result in adding complexity. Blocks are evolution of shortcodes, post formats, widgets etc. Lets suppose there is a custom "employee" block. Client can drag it to an About page. It would automatically display a picture, name, and bio. There is a  whole universe of plugins that all extend WordPress in the same way.  This will allow you to easily compose awesome posts.
3. COMPATIBILITY  Posts are backwards compatible. Short codes will still work too. There must be a solution for highly-tailored existing sites.
4. REPLACEMENT Gutenberg does not replace the default WordPress Editor.
5. WORDPRESS 5.0 After the release of WordPress5.0, Gutenberg will be default editor.
6. NEW MENU Gutenberg adds a new menu. It is added in WordPress dashboard and contains a demo and ability to create a new post. Visual editor looks quite different from the default one.
7. WRITING SPACE Comparison of Gutenberg with default editor, the first striking difference you will feel is related to writing space.Gutenberg has much more writing space as compared to traditional editor. Gutenberg works on the policy of writing first. This is the successful attempt of providing an environment with zero distraction.
8. POST SETTINGS If you click on the post settings, which is at the top right of screen, it would minimize the right-hand bar. Thus you would have more space writing with lesser distraction.
9. SWITCHING THE EDITOR To switch between visual editor and text editor, there is a drop down menu on the top right.
10. HTML BLOCKS You will notice that there are HTML comments at the beginning and the end of each block. Hence you can create blocks directly from text editor mode. If you highlight over a block, you will see the options that enables you to move it up or down with arrows, or delete them.
11. MCE TOOLBAR The tiny MCE toolbar, you have been seeing for years is now gone. There is a drop-down menu which shows up when you click the insert button.
12. TABLE BLOCK The simple tables are much easy to edit now. You can also insert them as a block.
13. TEXT COLUMN BLOCKS With Gutenberg, you can also add responsive text column blocks. You can choose between 2, 3 and 4 column layouts.
14. LIVE HTML BLOCK Here you can insert or type your code and see the result.
15. TABLE OF CONTENTS Now they have added Table of Contents on sidebar. With the help of these clickable links, you can easily jump to a section in your article.
16. EMBEDD OPTIONS Embed options are really more accessible now.
Should You Install Gutenberg Block Editor For WordPress?
Easy embed options, very easy interface for beginners, less distracting writing environment, more writing space, great UI/UX on mobile and convenience of blocks are the best features of Gutenberg. They really make Gutenberg stand out and must use editor. Overall it is effective enough to impress nearly everyone. Though there is a little concern of developers that Gutenberg Update might increase their work load, but the lay man has nothing to worry about.

How To Remove Gutenberg Block Editor From WordPress?
Gutenberg Block Editor for WordPress is pretty new and is introduced with latest 4.9.8 WP update. With WordPress 5.0 upgrade, Gutenberg Editor will be the default post editor for your blog posts and pages. In case you are not happy with gutenberg block editor or you want to continue with old classic editor of WordPress, you can simply install Classic WordPress Editor plugin and activate it. It is that simple. Let us know your experience with Gutenberg Block Editor in the comments section below.

If you are looking for WordPress Website Development services, we are here to serve you. Get in touch to discuss your project.