5 Best WordPress Newsletter Plugins for Website Development in 2023
Do you want to create awareness about your brand among your customers online? As we know that email marketing is a great way of marketing nowadays. You have to build an email list. If you want an efficient mechanism for email marketing to spread awareness about your business, you will definitely be needing, some better Newsletter plugin for your website. In this post, we will tell you about the top 5 best newsletter plugins for WordPress Website Development.
Top 5 Best Newsletter Plugins for WordPress Website Development in 2023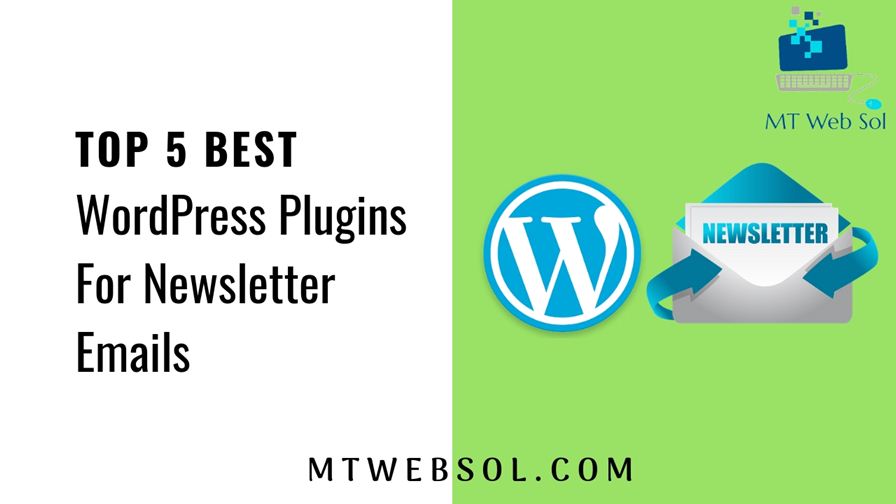 1. SendPress Newsletters Plugin for WordPress
A very simple and easy to use plugin. SendPress Newsletters comes with all features you need. You can design your newsletter template by yourself. Give it any style you want and edit the content like you edit the content of any of your WordPress post. You do not need any kind of coding experience for it. You can have unlimited subscribers and enjoy unlimited responsive newsletters with tracking.
You can also import the post content from your site for newsletter design and schedule your newsletters to be sent at right time. You can sync WordPress roles to newsletter subscriber lists. The statistics  of each mail can be tracked. Like clicks, opens and subscribers. It is compatible with PostMan SMTP mailer.
2. Email Marketing By MailGet Newsletter Plugin for WordPress
MailGet  is an efficient newsletter plugin for WordPress which is very popular among wordpress users. It is very smart platform for email marketers. It provides highest email delivery rate.
You will be able to design eye catching emails, campaigns, newsletters, and promotions and a very capable drag and drop editor is there to help you build every thing you can or can not imagine. If you want you can mess with code as well. There is a special list cleaning mechanism which stops spam and bounce of your email. Personalization tag can be used to send personalized messages to your potential customers. Similarly, drip email feature can be used to send sequential emails to customers about any particular campaign. Mailget comes with custom unsubscription link as well.
3. MailPoet Newsletters Plugin for WordPress
MailPoet, a great newsletter plugin makes it very easy to create automated emails and newsletters. The process of posting notifications and autoresponders  is also not a big deal anymore.
Like other plugins it also comes with excellent drag and drop editor. It automatically sends the latest posts, just three days after the user subscribes. Subscribers can also be imported very easily. You can even track the opens, clicks and unsubscribes for your newsletter.The lists can segmented into different sections. For example, clicked, opened and unopened. With MailPoet, the newsletters can be sent from your web host, Gmail or any SMTP like Amazon SES Mandrill, Sendgrid.
4. Drip Marketing Automation Plugin Newsletter Plugin for WordPress
Drip is the best e-commerce customer relationship manager. It provides much deep deeper customer-level insights and personalization. You can tailor your workflow and efforts in the most productive way possible. You are taken close to customer and you gain customer's loyalty which flourishes your business.
There is an awesome JavaScript web tracking code which creates a direct link between your wordpress websites and your drip account. Yes, you need to sign up for drip account before you use it. When your code is ready you can start triggering automations and display popups based on who's on your site and which pages they're checking out. You can also identify your subscribers with their time zones. You can see exactly what page any of your subscriber has visited and when. You can score leads using page visit analytics. There are advanced integrations to track revenue, fix cart abandonment, and beyond. You also get Facebook Custom Audiences and Facebook Lead Ads, and person based contact management.
[irp posts="831″ name="Top 5 Best Contact Form Plugins for WordPress Website Development"]
5. ALO EasyMail Newsletter Plugin for WordPress
ALO EasyMail Newsletter is an amazing wordpress plugin. It totally supports internalization and multi-language. It is available in more than 20 languages. With ALO EasyMail, you can write and send newsletters. Gathering and managing subscribers was never this easy.
You can collect subscribers without any limitation, on registration form and with an ajax widget. There are good options for exporting or importing subscribers. You can either import from existing registered users, or from CSV file. It is easy to create and manage mailing lists. Only admin has the right to assign subscribers to them.
There are different themes available for newsletters. They are in themes folder. There are a lot of tags that in each message will be replaced with e.g. recipient name, latest posts. You can also know how many subscribers have opened the newsletter and clicked on links inside it. Moreover, you can check the bounced emails and keep your email list clean.
If you are looking for WordPress Website Development services, we are here to serve you. Get in touch to discuss your project.