5 Benefits of Online Store for Fashion, Clothing & Jewelry in 2023
Needless to say, the internet has changed the way we live, the way we do business and the way we shop. The Internet has opened fortune for every person, especially for those who don't want any bossy boss to be around. Yep, the eCommerce business allows you to be your own boss and earn potentially without breaking your bank.
Certainly, an online business is emotionally fulfilling and financially enriching, so why not start one? Although there are tons of options available for starting an eCommerce business women's fashion, clothing, and jewelry online store websites are one of the best ways to start earning. Here are some benefits of starting an online store for fashion, clothing, and jewelry. Scroll down to read on!
Top 5 Benefits of Starting Your Online Store for Fashion, Clothing, and Jewelry in 2023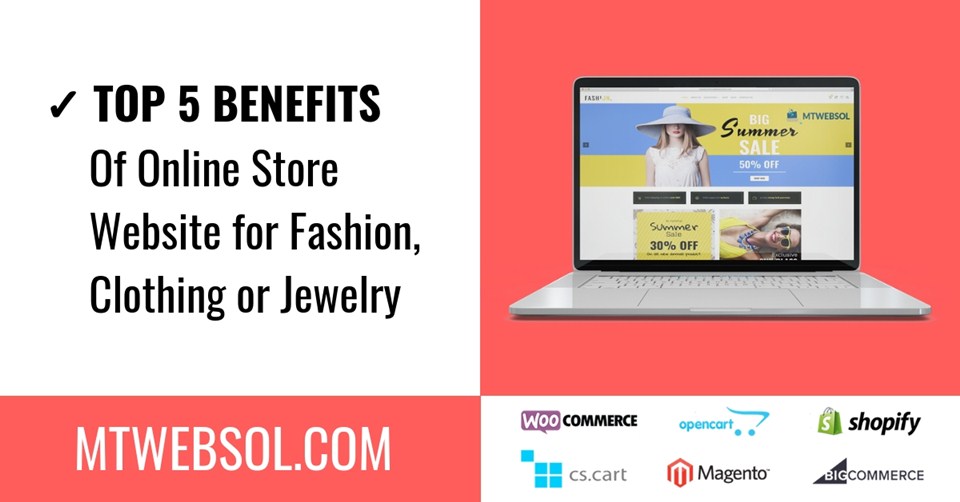 Why business owners and people prefer to start an online store instead of physical stores? Here's why:
1: No Upfront Costs
Okay, besides energy and time, it is obvious that any business you start has its upfront costs. Regardless of the type and nature of the business, when you are going for a physical store in real time, you will need a store at a good location, evaluate the space, negotiate the fees, hire the staff, obtain a business license, get equipment, furniture and more. Which, fortunately, is not a case with an online store. All you need is to have a few retailers by your side, register a domain name, web hosting and you are good to go.
2: No Inventory Costs and Problems
The second benefit that you get by opting for an online store for clothing, fashion and jewelry is that you don't have to deal with inventory stock. Unlike the vendors in the real-time, you only have to take orders and ask the retailers to get the orders completed. That's all. There are no affiliated costs at all.
3: Earn More Without Investing Much
A woman's love for shopping cannot be questioned and that is another benefit that comes with the online store for women's accessories and clothing. Online shopping has made it convenient for women to search and shop online, effortlessly, without the hassle of visiting the shops one by one and select what they want. This way you earn more, without investing much.
4: Enjoy Flexibility
Another reason to opt for fashion, clothing and jewelry stores online is the flexibility that it offers. Women clothing and fashion store is the major department that covers almost everything ranging from accessories to women lingerie, from their bottoms to their tops, from their dresses to Tees. This means, women get everything from one stop, provided the best quality and designs.
5: About 80% People Prefer Shopping Online
Not only women, but men as well prefer to shop online. So when you opt for a fashion clothing store for both men and women, you'll be targeting a wider audience that will exponentially increase the rate of your earnings.
Simply, people go online, shop and they get everything they ordered at their doorsteps and that is the thing they love most about online shopping. So what do you think? Is it worth starting an online store for fashion, clothing, and jewelry? Do let us know in the comments section below.
Looking for Complete Fashion Store Website Development Packages that include domain name, web hosting and eCommerce Website Development? MT Web Sol Quick Shop is here to set up everything for you. Our team has 5 years of experience with Latest Web Technologies and we are proud to serve our valuable clients globally. Get in Touch to discuss your project today!