Top 15 Reasons, Why You Need a Business Website in 2023?
Whether you are starting your whole new massive company or just starting a startup just like many, a question will pop up in your mind – Do you really need a website for your business? And if so, why? Well, if you are here chances are that you might be confused about whether to get a website for your new business or not.
Before we dive into the reasons you need to start your new website for your new business, here's the answer to – Do you really need a website? While living in the digital world, any business owner needs a business website unless they are not interested in growing their brand or company. It has become a common nature of people that they go online to check the company or brand before they hire them or simply purchase their products. The Business website is not only about selling goods to the clients but it is also about providing care to customers and the things that they need. So it is obvious that you definitely need a business website. But why?
Top 15 Reasons Your Business Needs A Website in 2023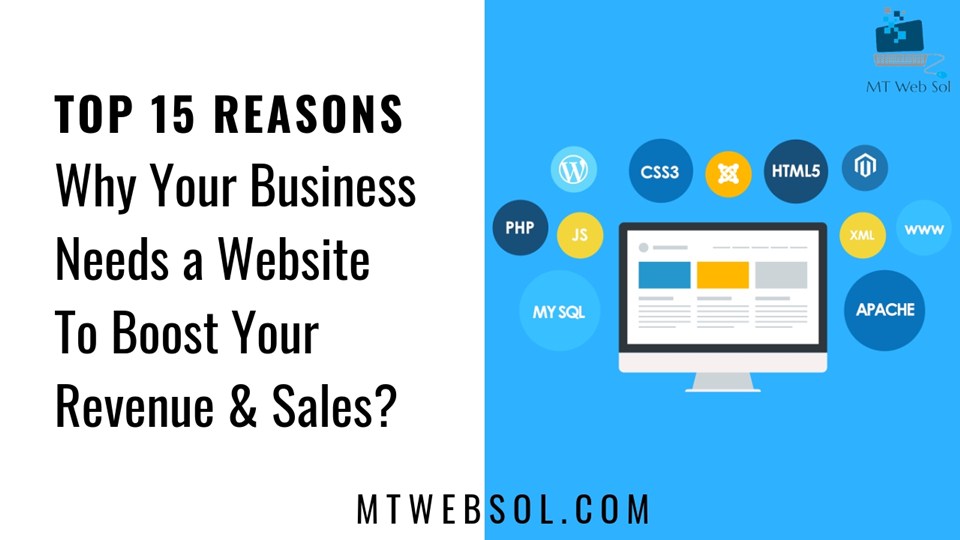 Here are 15 Reasons
1: Modern Customers Expect It
You are living in 2023 and the lives of our people have been digitized. Before they bother to visit your brand or company physically, they find it convenient to go online and check what your company or brand has to offer them. As a matter of fact, six out of ten customers expect the brands to provide online content about their business on some form of digital property, and more than half head straight to the brand's website for product information. And if you ask me about the sole reason why a business needs a website, this reason might suffice. So if your business doesn't have a website, we recommend you to get one because today's digital-savvy customers may look elsewhere.
2: Your Business Will Gain Credibility
With the increasing digital trends, more and more people are searching online for things they want. If you don't have a website, potential customers will go to your competitors who do, especially if you are a home-based business without a bricks-and-mortar address. Having a business website will not only provide information about your company or brand but also gives credibility. In simple words, the presence of a business website says, "I am here, I mean business, and I am in it for the long haul."
3: Cost-Effective Solution
When the companies come in the market, they spend thousands of dollars creating brochures and distributing them. Instead of spending thousands of dollars in a single advertisement, owning a website for your business can prove to be helpful for you in the longer run. Your potential customers can find out about you and any of your products online. If you get most of your business through networking and personal connections, then they will want to check out your website.
4: Your Customers Can Stay Updated
In its most basic form, think of a business website as an online brochure or catalog that can be updated to provide any type of new updates happenings in your company. Be it the launch of your new products or the annual sale promotion, a business website makes it much easier and quicker to update your information to customers so that they can stay informed and updated with the least investment.
5: Accessible Around the Clock
In this digital world, customers need something that is accessible 24/7. Sure you cannot stay there and respond to the queries of your customers all day and night long. So in this scenario, a business website can help. It is accessible 24/7/365, so your customers can access your services and products easily from anywhere across the globe.
6: You'll Appear In Google Search Results
When you have your website developed and managed by professionals, you can appear on the first page of the Google Search Results. And as a matter of fact, more than 81 percent of the consumers go on Google before making any purchase. That means, your website has a chance of getting the attention of the customer and making them loyal for the longer term provided the quality and affordability.
7: More Customers
In the digital period like 2021, more than 2.4 billion people use the internet every day, and some 90% of those have purchased something or contacted a company, online in the last 12 months. So by not having a business website, you might be missing out on a big piece of the pie. Don't you have a website till now in 2023? You are missing a big opportunity by not having a business website or an e-commerce store. One of our recent articles has highlighted all the important steps you need to SETUP YOUR OWN E-COMMERCE STORE WEBSITE and capture the online audience looking for your products.
8: Target A Wider Audience
As mentioned earlier, a business website helps your business to be accessible from anywhere all across the globe provided there is an internet connection. Since today more than half a world uses the internet, you can target a much wider audience that might be interested in the products your offer or the services you provide. Think of all the people who can't get to your bricks and mortar store that you could sell your products to.
9: It Provides A Medium to Showcase Your Work
Regardless of the type of business you are in, a website is a great place to showcase your work or demonstrate your skills. Not only you can represent your work by beautiful portraits or images but also you can also create short videos and tutorials that will demonstrate what your company offers and what makes it unique and better from others in the market.
10: Communication With Customers
Another reason for having a business website is that it provides a medium to communicate with your customers to find out what they want and what they feel about your company. Many business websites have a chat option for the customers that can help them communicate with the clients easily and solve their queries. In addition to that, by having a blog or even just a feed on your website, you can update customers on your newest offers, products, promotions, events, photos, or any other content.
11: Marketing
The Internet has opened a whole new perspective of marketing for businesses all across the globe. Your website online can strategically attract new customers and businesses that can prove to be very beneficial for your company.
12: You Don't Need Extensive Technical Skills
Because of WordPress and a number of other website-building platforms, you can own a website effortlessly. These platforms offer online tutorials and community-based support, which allows almost anyone to get a basic website up and running in about thirty minutes.
13: You Control the Narrative
Well, it is true that you cannot control what others say about your company on social media, but you can influence public perception by creating your own story via a business website. This way, people can get the vision, message, and the products of your company faster than print ads or snail mail brochures.
14: You Can Beat Your Competitors
Have you ever wanted to start a business and beat all the big guys out there? Well if so, having a business website with solid design and strategy can help you to do so. You have no chance of building bigger skyscrapers, but your website can break down the perceived wall between you and them.
15: Helps You Find A New Job
Tired of working under a bossy boss? Well, you can enjoy being your own boss by starting your own business and a business website. Not only can a website host your resume or CV, but by owning and managing your website you have demonstrated tons of hard and soft skills.
Do you still wonder why you need a website for your business? We bet you don't!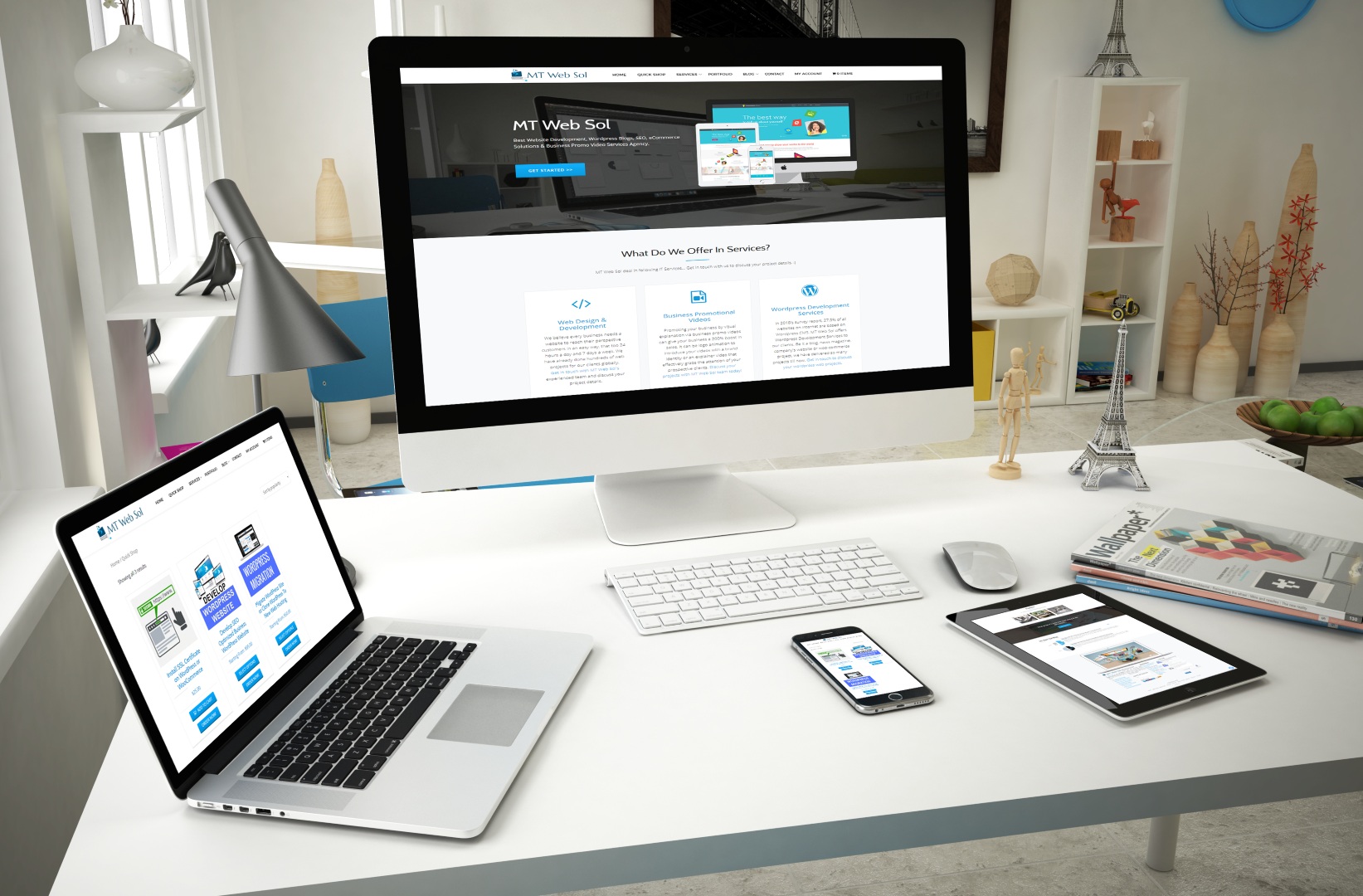 If you are looking for Complete WordPress Website Development Packages that include domain name, web hosting, and website development, MT Web Sol Quick Shop is here to set up everything for you. Our team has 5 years of experience with Latest Web Technologies and we are proud to serve our valuable clients globally. Get in Touch to discuss your project today!