Top 5 Best SEO XML Sitemap Generator Plugins for WordPress Sites
It is not easy to optimize your organic search traffic. It should be your highest priority to make it easier for search engines to find your content. In this article, we will tell you about top 5 best Sitemap Plugins for WordPress & WooCommerce Website Development. 
Top 5 Best SEO XML Sitemap Generator Plugins for WordPress Sites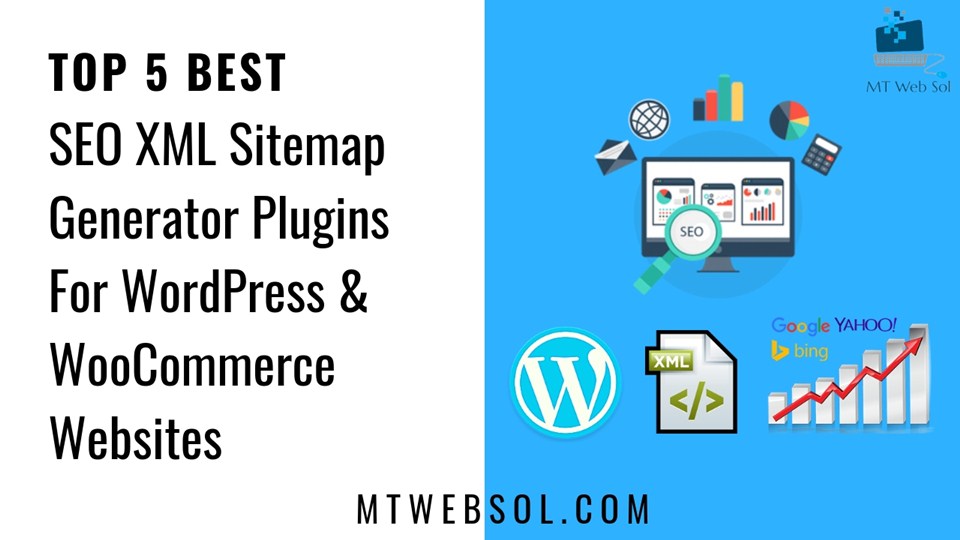 This is the perfect sitemap plugin for all wordpress websites. It generates the XML sitemap of your site which has the links of all files on your site. Installation is fast and easy. You just have to upload php file to your main "public_html" directory and launch it. Sitemap content from posts categories, tags and authors is included. XML sitemap may be saved as .gz or .txt extensions. There is special URL filter with exclude keywords. All popular search engines like Google, Yahoo and Bing are automatically notified about your blog updates.
2. Google XML Sitemaps Plugin for WordPress 
Google XML Sitemaps significantly improves SEO in order to create special XML sitemaps which helps search engines to better index your site. It becomes easy for crawlers to examine the complete site structure and retrieve it better. Google XML Sitemaps supports all kinds of WordPress generated pages  and URLs.
Every time you publish the post or a woocommerce product, it notifies search engines.
3. WP Sitemap Page WordPress Plugin
WP Sitemap Page provides an easy way to add a sitemap on one of your pages. All you have to do is to add the shortcode provided on any of your pages. Thus automatically sitemap of all of your  pages and posts will be created. But beware of the fact that this plugin does not create XML sitemap. It just lists all your pages and posts into single page.
To be precise it creates sitemap which is understandable for humans but not for bots. This kind of sitemap is fruitful from SEO perspective and simplifies navigation for users. All your pages, posts, categories, taxonomies are displayed. If you want you can exclude some custom post type or some pages. Also, there is a CSS class, which you can customize as per your need. WP Sitemap Page is available  in many languages, and if you want you can add your own translation.
4. Sitemap Plugin for WordPress Websites
This plugin was formerly known as the name of 'Sitemap'. But now  it is called page-list plugin. The name is changed after a lot of re-write and overhaul. It provides you a lot of shortcodes, that can be embedded anywhere on the page to make browsing easier. You no longer need to go through endless menus  and sub-menus.
To facilitate you more, additional parameters are there to be added in shortcode. All this stuff is free. The names of some shortcodes are page list,  subpages, siblings and pagelist_ext.
5. WP SEO HTML Sitemap Plugin for WordPress WooCommerce Sites

If you have used Yoast SEO plugin, you might already know that they don't have a HTML sitemap feature. This plugin is the remedy to that problem.
By default, it uses all sitemap xml settings from the popular WordPress SEO by Yoast Plugin. You can decide how many columns to display, the columns which have masonry effect. There are multiple shortcode options for placement. Some are overwrite, prepend and append. The CSS of plugin can be displayed, if you want. The HTML is fully responsive to all devices. Output is friendly for multiple languages.
Conclusion
Hope you liked this article. We have told you about some of the most efficient SEO XML Sitemap Generator Plugins for WordPress. All have their own pros and cons. Hope it is easy for you to select one for your WordPress or WooCommerce website. Also check out the Best SEO Plugins for WordPress & WooCommerce Websites.
If you are looking for Complete WordPress Website Development Packages that include domain name, web hosting and website development, MT Web Sol Quick Shop is here to set up everything for you. Our team has 5 years of experience with Latest Web Technologies and we are proud to serve our valuable clients globally. Get in Touch to discuss your project today!