Top 3 Best Ways to Fix SSL Mixed Content Errors on WordPress Websites
If its first time you have installed SSL certificate to your wordpress site, you may face some problems. Green pad lock in the address bar of your web browser might not appear correctly, or it is greyed out. This is called Mixed Content Error. In this post, we will elaborate how to fix SSL mixed content error on your WordPress Site.
WordPress SSL mixed content error is a very common problem. Let us first understand the factors which cause this error. Your site is not completely loaded with SSL, just few of the elements are. You can say that an image, page or font etc was requested to be loaded with https but it got loaded with http. It may lead to one of the two situations. Either the green padlock does not appear at all, or it does appear but without the insecure image or resource.
Inspect Element feature can be used to check if your site is being affected by mixed content error. Right click any where and hit inspect element. This will open a new section at a bottom or right of your screen. Click on the console tab to see the insecure parts of web.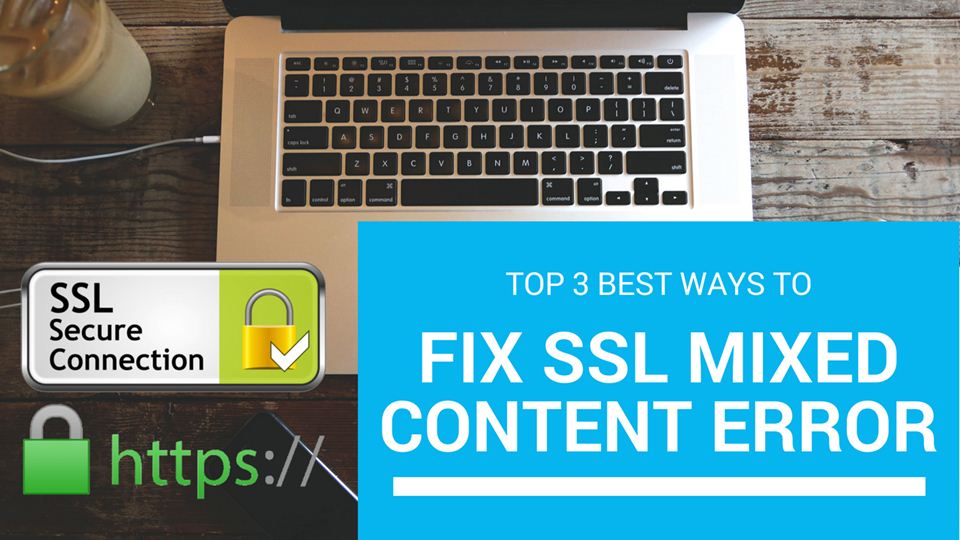 Best Ways to Fix SSL Mixed Content Errors on WordPress
Let us tell you the easiest way to fix mixed SSL content error on your WordPress website. If there is still a problem, may be your website has some URLs hard coded into database. There are several methods and plugins to resolve the issue. There are different methods to solve this problem. We will describe two different plugins and one manual method for fixing mixed content ssl error.
INSTALL INSECURE CONTENT FIXER PLUGIN

Use this plugin, if URL in Inspect Element Console is your own domain. Install this plugin. It will replace elements on the page depending on the options which are specified within that settings. The settings are illustrated below. After completing it, do not forget to purge the caches in WordPress Admin Panel. Get the plugin here.

SEARCH OR REPLACE YOUR DATABASE

If above method has not helped you and the URL in Inspect Element Console is your own domain, not your CDN or an external domain. You can use a Search-Replace plugin to search for "http://www.yourwebsite.com" and replace it with "https://www.yourwebsite.com". After making changes, purge all the caches. It will fix ssl mixed content error and your website will show secure green pad lock in web browser's address bar. You can use Better Search and Replace plugin to search and replace the URLs or texts in your wordpress database. Please make sure to backup your database, before proceeding with any changes, it this process can take down your website, with a slight error. If you are unsure how to fix ssl mixed content error, you can hire us for this job.

REALLY SIMPLE SSL PLUGIN

This super plugin is the ultimate mixed content error SSL solution for wordpress based sites. It scans all your settings and configures them according to https. The process is very simple and straightforward. Get an SSL certificate, activate the plugin and fix the error with one plugin. All incoming requests are directed to https. Site URL and home URL are also changed to https. You can install Really Simple SSL Plugin from here.
In case you are using SSL and CDN, you can request MT Web Sol support team and ask them to enable SSL over CDN. We are always there to help you out.If your own custom domain is in use, you need to provide us your SSL certificate and key files to secure that domain on CDN server. If you can still see don't see the green padlock in your site's URL bar, you can try following hacks.
Go to WordPress admin dashboard, and purge the caches.
Test it incognito window. You will get around local caching.
Check your theme file and plugin settings. There might be hard coded URL's.
In case the SSL Mixed Content problem still persists on your wordpress based website, Contact MT Web Sol. Our team can help you resolve it.
[products id="876″]
We can also help you with SSL Certificate Installation on any of your website. Our professional team will take care of all your technical troubles with 100% work satisfaction.