Top 5 Best Download Managers for WordPress Sites in 2023
Download Manager Plugins make the process of downloading files very easy. Though the native WordPress user interface has the ability to manage file downloads. But, this is not the easiest nor most efficient way of file management. The native function doesn't even have half the features of many of the new and popular WordPress download manager plugins now available to help you manage files.
In today's post, we will tell you about the top 5 best download manager plugins for WordPress sites. With the help of wordpress download manager plugins have more control over your files and analytics. You can allow access of download, only to registered users of your site, and keep eye on the number of downloads. Also, you can integrate payment methods with download managers so that you can sell your digital files or downloads at profit.
Top 5 Best Download Manager Plugins for WordPress Sites in 2023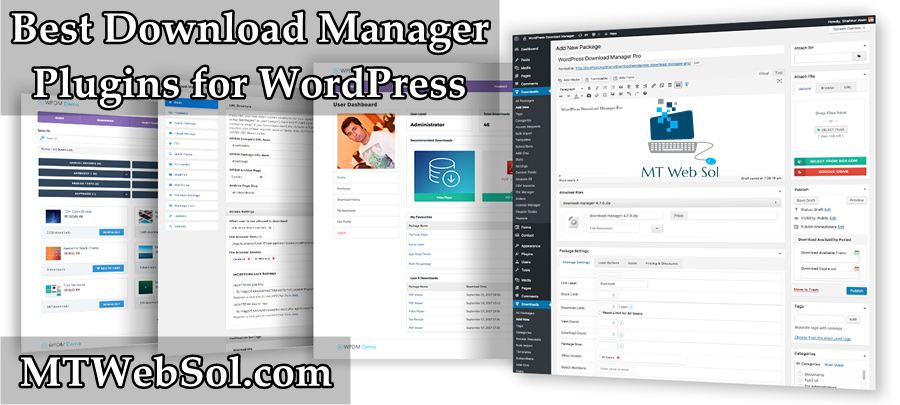 1. WordPress Download Manager Plugin
WordPress Download Manager is a Files or Documents Management Plugin that is very good at managing, tracking, and controlling file downloads from your WordPress Site. You can use Passwords and User Roles to control access to your files. Plus is that you can control downloads by speed or by putting a limit on download count per user and block unwanted users from using Captcha Lock or IP Block feature. Before the download, it may ask users to agree with terms and conditions. Its rating is 4 out of 5 stars.
WordPress Download Manager can be used as a complete e-Commerce Solution. Just put a price when you need to sell the item, and the user will have to go through the cart & checkout. It has the easiest checkout option to give the user a better experience in purchasing an item and which always increases the probability of successful completion of an order. You can Attach the file directly from your server using the server file browser. There is chunk upload support to override the HTTP max upload limit. It also comes with Google Drive and Dropbox support.
2. WP Download Manager Plugin for WordPress
WP-Download Manager Plugin is really a simple download manager plugin, which is developed by Lester Chan. It is a viable option for webmasters who don't need/want a long list of features. It currently has 8,000+ active installs with a rating of 4.6 out of 5 stars.
You can track user activity, the number of downloads completed, and files can be protected with passwords. The number of downloads can be limited as well. There also are features of drag & drop and custom post type. It is also possible to embed more than one file to be downloaded into a post or page.
3. WordPress Download Monitor Plugin
Download Monitor comes with an intuitive UI that allows you to easily upload and manage downloadable files. Also, you can insert download links to files in posts. The goal is to help users keep files organized and to provide a way to track files. Currently, Download Monitor has 100,000+ active installs with a 4.4 out of 5-star rating. Premium extensions are available, such as Email-Lock, which enables you to require a user to enter their email address before they are able to download the file.
You can track download counts and logs user download attempts. Quick-add panel is there to facilitate you in adding files while you are editing posts. You can add multiple file versions to downloads. Download Monitor comes with shortcodes to output downloads in different formats including plain text links, buttons, and boxes. Shortcodes can help you to display download links on the front end using shortcodes. Template files can change the way links are displayed.
4. Easy Digital Downloads Manager Plugin for WordPress
Easy Digital Downloads is a total e-commerce solution for any kind of digital download. But that is not all. Also, it can also manage multiple file downloads per downloaded product.  You must go for it, if you have different prices for multiple products or have bundled products. It comes along with PayPal and Manual as the default payment options, but others can be added for a fee. Payments can also be handled through Amazon. Its rating is 4.8 out of 5.
User can purchase history and has the right to re-download files. This history is possible just because of a specific shortcode. There is a cart system for multiple downloads. You can even create discount codes to encourage your users. Download activity can be fully tracked. There is a built-in reporting platform for easily viewing stats and making reports. There is support for more than 24 languages.
5. Delightful Downloads Plugin for WordPress
Delightful Downloads is an outstanding download manager for WordPress with which you can easily add download links, buttons, and download information to posts, pages, and widget areas. All data can be tracked for your download statistics from the WordPress dashboard. Delightful downloads plugin is developed by Ashley Rich, on the team over at Delicious Brains. Currently, it has 10,000+ active installs with a 4.7 out of 5-star rating.
You can even upload the file WordPress dashboard area. Downloads can be easily categorized and tagged. You can specify the download list according to date, download count, or title. Bots can be blocked. Files are password protected. Delightful downloads automatically delete logs older than a specified number of days.
It is a big decision to choose the right download manager plugin for your wordpress based website. Some factors you must take into account are download moderation and functionality, shortcodes, number of active installs, ratings, cost, and packages, embed features and drag & drop functions. If you go with the rating, Easy Digital Downloads Manager Plugin is the best among above all. But if you heed the number of active installs, the best is the WordPress download monitor plugin. In the end, the best is the one which suits your needs best. You have to decide which one is best as far as your preferences are concerned.
<
p style="text-align: justify;">If you are looking for Best WordPress Website Development Services, you are at the right place. MT Web Sol offers high-quality wordpress website development services along with SEO and eCommerce Website Development. Get In Touch to get started.