Top 5 Best Table Plugins for WordPress & WooCommerce Without Coding
Tables and charts are effective ways to represent data in an organized from. A lot of information can be shown in attractive way, using tables. WordPress does not come with any built-in table support, by default. If you want to show data in tables on your WordPress or WooCommerce website, but do not like to write any code, this article is surely for you. We will tell you about top 5 best Table Plugins for WordPress Website Development.
Top 5 Best Table Plugins for WordPress & WooCommerce Without Coding
Tables are used in nearly every filed. Business, Sports, Science, Education, etc. It is  not so peaceful to write code for tables or even copy paste it from somewhere. Tables plugins come save your time and help you show beautiful tables on your WordPress site.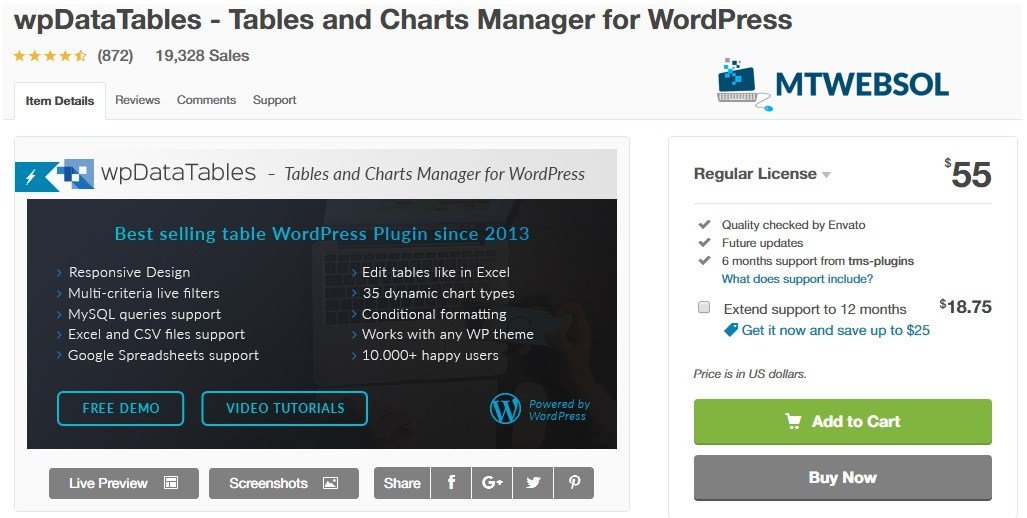 wpDataTables is a powerful wordpress table plugin. It can also be regarded as the best spreadsheet and data chart manager. It is a premium and multi-purpose plugin, which has fully integrated support for MySQL and other data sources. Even if MySQL database has million of resources wpDataTables will work efficiently.
The design is totally responsive, and works on nearly every kind of devices. There are various editing tools. It is convenient Excel like interface. For rendering of charts, 3 supported libraries. Advanced filters can be configured for tables in such a way that every column has its own filter. Either it is drop down, checkbox, text input or date range picker. In table footer, totals can be shown. Customization powers are unbeatable. You can mold your table to represent any kind of particular use case, you are implementing. A very interesting feature is life time updates. When you purchase, you get six months premium support as well.
2. TablePress – WordPress WooCommerce Table Plugin
TablePress is one of the best and most famous WordPress table plugins. It helps to use and create stunning tables. TablePress is a free plugin which can create tables for your posts, pages and text or widgets, with the help of shortcodes. There is no restriction on types of data to be used in tables. Custom CSS can be added to the tables. Tables can be imported as well, just like WordPress dynamic table. Searching and pagination is super easy, and you can copy, delete or duplicate the tables. TablePress supports multiple languages as well. The only disadvantage is that it is not responsive.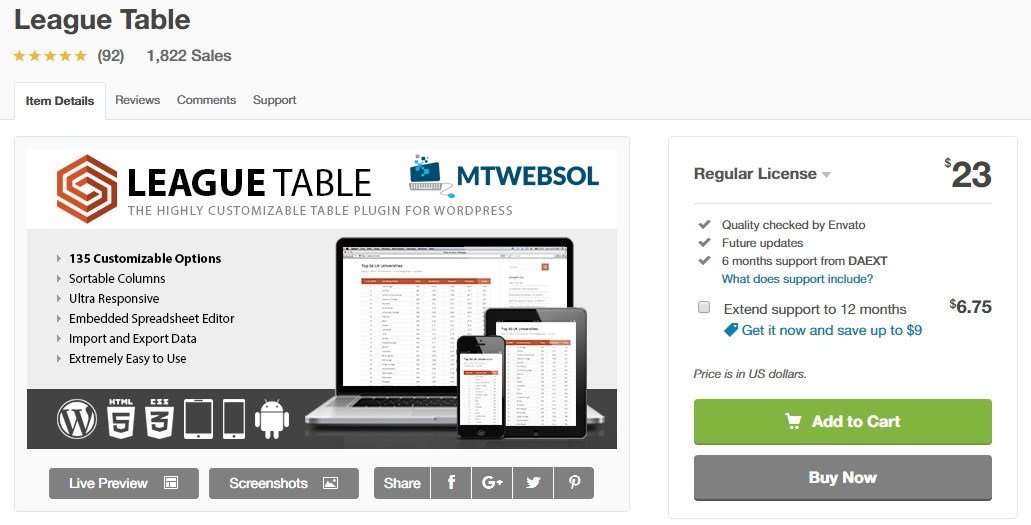 League tables is a resourceful and multi-purpose wordpress table management plugin. You can create beautiful and sortable tables inside your pages or  posts. Visitor is allowed to sort the table by ordering a particular column in ascending or descending order. Any criteria can be applied on multiple columns. That makes it perfect plugin for statistics. Import and export is also allowed. Customization is so amazing that there are 17 options per cell and 13 general options. You can also customize the color and fonts of your table. Inside cells, you can add images as well as HTML code. It is multisite and multi-language ready.
4. Ultimate Tables – WordPress WooCommerce Table Plugin
Another free and efficient table management plugin for WordPress with 4 out of 5 stars rating. Tables can be inserted anywhere in pages or posts or articles. You can arrange the table in two different ways. Alphabetical and numerical. You can edit the number of rows and columns, reorder and delete an existing table. In cells, you can insert HTML code, if you want. There are three different designs available. Heights and width options are configurable. There are two limitations in Ultimate Tables. First is that it is not responsive. Secondly, there is no support for import/export.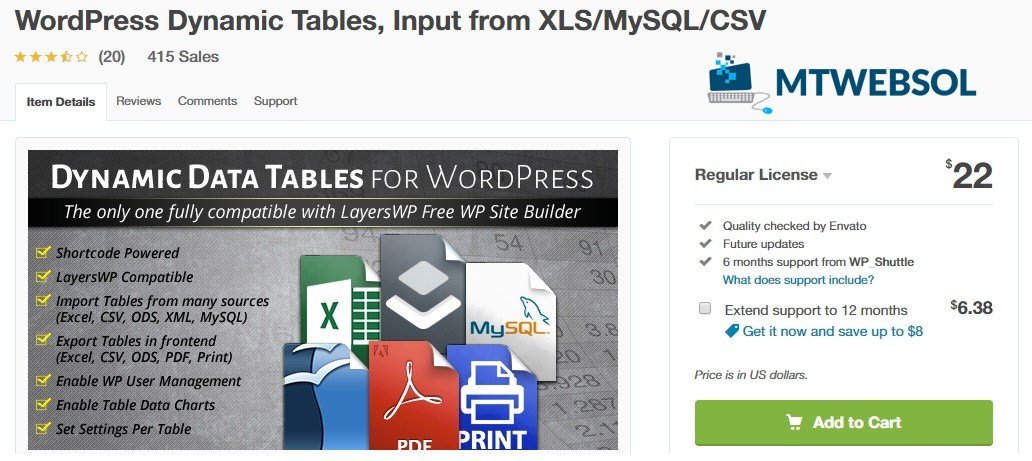 WordPress Dynamic Table is a multi-purpose WordPress plugin that lets you import tables from numerous other sources. Some examples of these sources are Excel, ODT, CVS, XML files and MySQL queries. After importing them, you can publish them in the front-end in responsive mode. How to sort table, enable or disable columns, add charts and set width, every thing is under your control. Shortcodes can also be used to display widgets or tables. If responsive mode is enabled, you can also specify which columns should be visible and which should not. Some other good features are WP user management, Layers WP compatibility, Ajax search for columns, and visual composer compatibility.
Conclusion
<
p style="text-align: justify;">We hope that you liked the article and now you have enough insight into WordPress table management plugins to choose one of them for your WordPress website wisely. There can be number of factors you may consider like cross browser support, import export feature or any kind of table management features.