Top 5 Best Plugins To Create SEO 301 Redirects in WordPress Websites
Being a webmaster, you often need to make changes in your website. You would definitely need to move around the content at some stage of using wordpress. Redirects help us to safely guide a user to proper location of our content. They resolves all the issues related to broken links and deleted posts. It is crucial because broken links can cause disaster for your blog or website and ruin your standing in search results. In today's article we will tell you about top five best plugins for creating redirects in WordPress Websites & Blogs.
Top 5 Best Plugins to Create SEO 301 Redirects in WordPress Sites & Blogs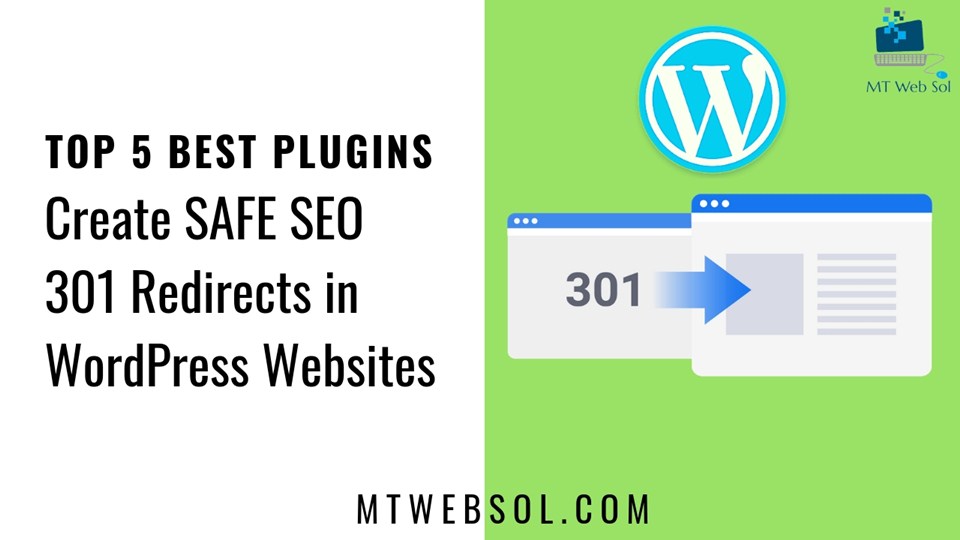 It is crucial to have redirect plugins, because broken links can cause disaster for your blog or website and ruin your standing in search results.Redirects are the best solution for broken links.
1. Redirection Plugin For WordPress Website Development
Redirection is the most popular wordpress plugin for creating redirects and has been providing ultimate redirection facilities for 10 years. It helps you a lot in managing 301 redirection and keeping track of 404 errors. You can basically tighten up any of the loose ends of your site. It can handle any kind of broken links or orphan pages.  If your WordPress supports permalinks than you can use this plugin to redirect any URL.
You can configure the plugin to monitor when post or page permalinks are changed. It will automatically create a redirect to the new URL. You can also redirect when user logs in or logs out, or when a user is using a specific browser. Also if a particular cookie is set. You can view all redirects occurring on your site, including information about the visitor, the browser used, and the referrer. All 404 errors are tracked down for you to so that you can fix them.
2. SEO Redirection Plugin For WordPress Website Development
SEO Redirection is an efficient wordpress redirect plugin which helps you to generate 301, 302 and 307 and also supports 404 error monitoring. It is very useful if you want to migrate pages from old website. Wild card direction is also supported. SEO Redirection supports multiple languages.
SEO Redirection comes with ultimate user experience because it is super easy to use. It automatically adds 301 redirection when the URL of post changes. It redirects posts and pages that published, draft or deleted from it\'s edit page directly. There is an advanced control panel where you can control all functions of plugin. Folders can be redirected with all their content. Redirections can be based on multiple things just like previous redirection plugin. Regular expressions can also be used in redirect links. It works entirely inside wordpress, so apache .htaccess is not required.
3. Quick Page/Post Redirect Plugin For WordPress Websites & Blogs
Quick Page / Post Redirect Plugin provides the best wordpress redirection services. You can redirect WordPress deleted pages/posts, broken links to the new page/post of your choice. Different types of redirects (301, 302, 307, meta) to your WordPress pages or posts can be added quickly and efficiently. It also works with wordpress nav menus. This WordPress Redirect plugin comes with two easy to use redirect functionalities. First is "Quick Redirects" and second is "Individual Redirects".
The first, "Quick Redirects" is very useful for standard 301 redirects. The process is pretty straightforward for standard 301 redirects. You do not need to have an existing page or post. Just enter the request URL and the destination URL and rest would be done itself.
The second one "Individual Redirects", is for content already existing on your website. A meta box is added to the edit screen and you are allowed to specify the redirect location and type. You are even allowed to redirect menu items, duplicate posts or location on your existing site. It is free and available in the WordPress repository.
4. Link Juice Keeper Redirect Plugin For WordPress Websites
To get well ranked on google and other search engines, you have to care about incoming links. Make sure that every incoming link leads to one of pages on your blog. It might not less than a challenge. You face a lot of problems like you may have to remove some page or post from your website. You may change URL scheme on whole blog which cause incoming links to break. Link juice can be wasted because of this.
You can avoid these problems by downloading link juice keeper plugin. It will redirect all non-existing URLs which normally return a 404 error to the blog front page using 301 (permanent) redirect. Now everyone who comes to your blog via broken link (both people and robots) will be redirected to the front page.
5. Simple 301 Redirect Plugin For WordPress Website Development
This plugin provides an easy method of redirecting requests to another page on your site or elsewhere on the web. It is very handy when you migrate a site to WordPress and can't preserve your URL structure. If you want to create redirects, but you want to avoid struggling with any complicated tool or advanced setting, then Simple 301 Redirects is for you.
This plugin saves you from a lot of trouble, when you are changing domain or hosts but you do not want to lose the page ranking of your site. Traffic will be redirected to new content, keeping old links intact. It is available for free on WordPress.org.
Conclusion
Every wordpress website, needs a redirect plugin at any stage of its life. Preserving rank of your website and saving your readers from any headache is something you must do when you are running a well-maintained site. So carefully choose the wordpress redirect plugin which best suits you. If you are not too concerned about specific redirect protocols, you should go for some lightweight plugin. If you are than make yourself sure that the plugin you have chosen supports those specific protocols.
If you are looking for Complete WordPress Website Development Packages that include domain name, web hosting and website development, MT Web Sol Quick Shop is here to set up everything for you. Our team has 5 years of experience with Latest Web Technologies and we are proud to serve our valuable clients globally. Get in Touch to discuss your project today!