Top 5 Best WordPress Cloud VPS Hosting in 2023
When it comes to the decision of choosing the best cloud VPS for WordPress website hosting, It's really a very tough decision. You have to take into account a lot of factors. In this article, we have compiled the list of top five best cloud VPS for WordPress website hosting.
Top 5 Best Cloud VPS for WordPress or WooCommerce Hosting 2023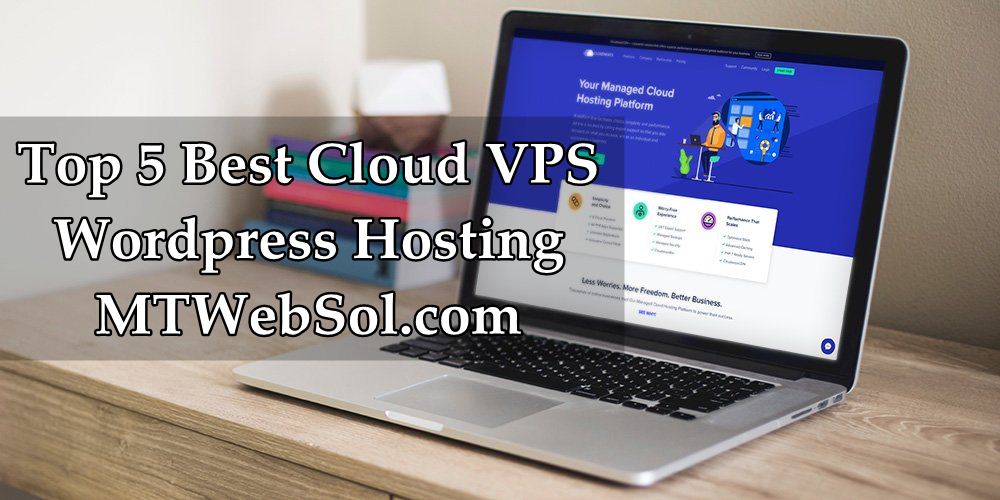 This is ultra fast and auto-scale-able cloud hosting platform, which comes with 24/7 VIP support. Its most distinctive feature is that it is managed whereas all other cloud virtual private servers are managed. That makes it the perfect option for you, no matter you are starting a small development project or high traffic eCommerce platform. They have different plans which includes entry, business plan, business plus and super power. Their prices range from $10 per month to $233 per month, depending upon four parameters which are CPU cores, memory, SSD space and data transfer. The most enchanting point is that you can make your own custom plan by setting these parameters according to your choice.
It is compatible with WordPress, Magento, Joomla and Drupal. Some more interesting features of cloud hosting are different PHP versions, free SSL certificates, free dedicated IP and private DNS server setup.
These scalable computer services are more than a virtual machines. In their own terminology, cloud sharing is known as droplets. May be this term is used because a small shared hosting seems like a droplet to this big company called digital ocean. Droplets are a scalable platform with add-on storage, security and monitoring capabilities. You can choose any one of many droplets available, either optimized or standard. They have 8 data center regions with a reliable connection all over the world. You can choose and deploy anyone of them.
You have deploy the droplet using any one of six distributions or any one of six one-click apps. Distributions are Ubuntu, Cent OS, Debian, Fedora, Core Os and free BSD. One-click apps available are Docker, LAMP, LEMP, Mongo DB, node.js and MySQL. It is very easy to monitor Droplet performance. It shows you metrics on visibility and send you different alerts to improve the overall infra structure. Cloud firewalls are there to secure your system. Back-up system is built-in. It is very easy to keep expanding your site. Attach more storage and create high standard interface to satisfy your users.
3. Google Cloud VPS for WordPress without Dedicated Support
This is the best cloud VPS for WordPress website hosting. It is the suite of cloud computing services that runs on exactly the same infrastructure which is used by google for its products. It uses the core infrastructure of google's data analytics and machine learning. It can be regarded as future-proof infrastructure. Server resources can be automatically upgraded if your website suddenly goes viral and traffic increases unexpectedly.
It provides excellent database storage mechanisms. Big data can be handled without any kind of difficulty. The global network is super fast. Our regional location is connected to 100 global network points. Many productivity tools and developer tools are here to facilitate you. You can very easily control access and visibility to resources running on a platform that is protected by the security model of google.
4. Amazon EC2 Cloud VPS for WordPress without Dedicated Support
To get secured and re-sizable capacity in cloud you should go for Amazon EC2 cloud VPS. It is designed to make ease for developers. You can configure the capacity with minimal function, because you have complete control over your computing resources and you can run it on Amazon's proven computing environment. They make use of super elastic web-scale computing technology, which can increase and decrease capacity within minutes. You can completely control your instances including root access and ability to interact with them.
There are several ways to get started with Amazon EC 2. There is AWS management console, command line tool and AWS SDK's. The financial benefits of Amazon's scale will be passed on to you. The rate you have to pay forcomputing capacity is very low. Their security services are very good. You will enjoy network architecture built to meet the requirements of most sensitive organizations.
5. OVH Cloud VPS for WordPress Hosting without Dedicated Support
They bring the performance of VPS with availability of cloud. There are different plans ranging from $9 per month to $33 per month while you can choose the operating system of your choice either Linux or Windows. If you need multiple servers it is also possible. They provide the facility from 2 vCores, 4 vCores and 8 vCores at a time. Their prices range from $44 per month to $150 per month. Their bandwidth is 100 Mbps for unlimited traffic. Anti DDoS protection is included.
Here are some of the optional features of your VPS cloud. You can reboot and re-install multiple times using control panel. They have flexible control panel which gives you detailed overview of your VPS, so that you can easily monitor it. You can take backups in three different ways. Snapshot backup, Automated Backup and multi protocol backup. These all methods have different price ranges.  On-demand additional storage is also available. You can avail 16 different IP addresses to optimize your global SEO.
Once you are done with finalizing the Best Cloud VPS WordPress Hosting, we will also recommend you to read about Best CDN Providers for WordPress. By using Content Delivery Network, you will be able to boost your website's speed up to many folds.