Cloudways Review: Best Managed WordPress Hosting in 2023
When it comes to WordPress Website managed web hosting, you have lots of options to consider. Ranging from Digital Ocean, Linode, Vultr, Google Cloud & Amazon Cloud, there are tons of them. Haven't we mentioned Cloudways? Well, if you are looking for the best managed WordPress hosting company in the market today, you have come to the right place. In this post, we will highlight why Cloudways is one of the best WordPress hosting company, today.
Amazingly all famous cloud hosting providers mentioned above are supported by Cloudways, yes you read it right, Cloudways helps you manage your cloud hosting with their very own easy to use control panel.
What Is Cloudways?
Just like any other WordPress Hosting Company, Cloudways is the one that has become the best of its kind. It was launched in the year 2009, based in Malta and Spain. The company was started by a group of university students and has steadily earned the reputation of being one of the most reliable and best-managed WordPress hosting companies out there. The company positions itself as a company offering high-quality, "well-crafted" managed wordpress hosting solutions.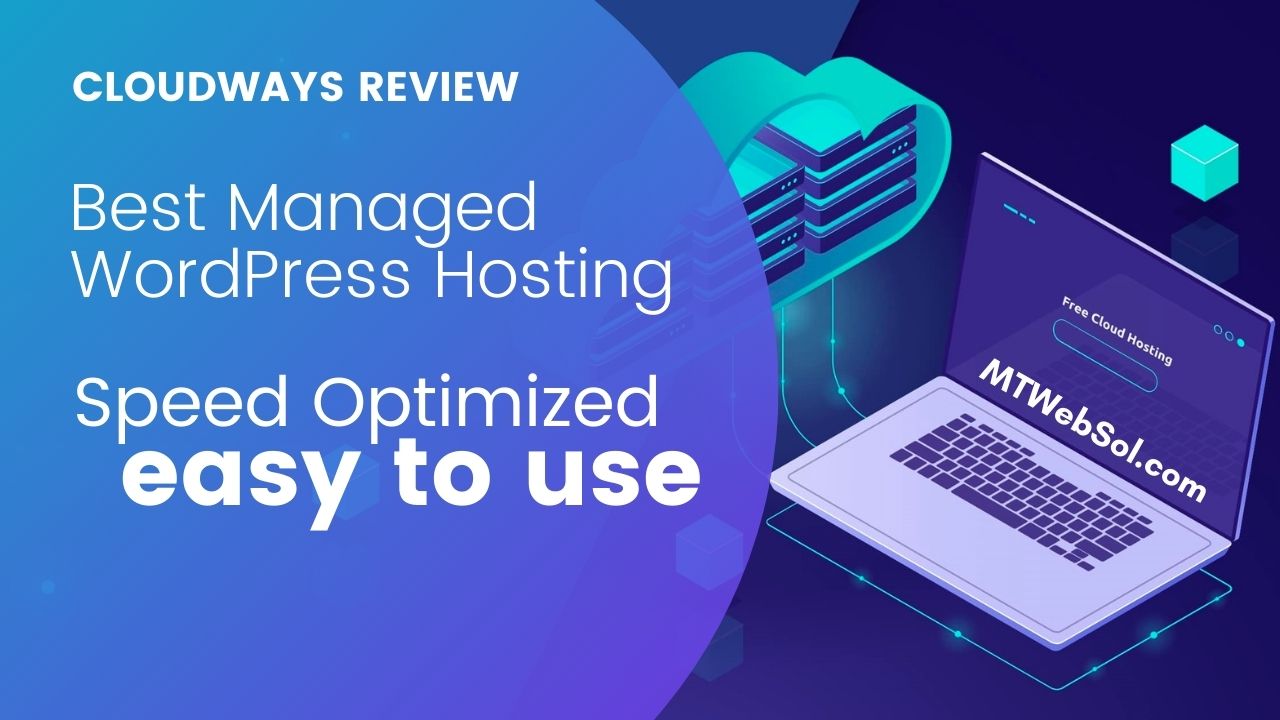 Not only they offer hosting for WordPress, but also they offer a spectrum of hosting solutions ranging from Cloud Linux hosting (the affordable, versatile kind used by most websites) all the way to Cloud server solutions for large, growing websites.
[cta_btn color="info" size="" link="https://www.mtwebsol.com/go/cloudways" ]Signup for Cloudways Managed WordPress Hosting[/cta_btn]
Why Choose Cloudways for Managed WordPress Hosting in 2023?
Best Fastest Managed WordPress Hosting | 2020 Black Friday Deals
What makes Cloudways the best WordPress hosting company is its array of features that really set this company apart from other web hosts. So here we will discuss some of the important features that Cloudways offers:
1: Performance Optimized
You will find a lot of WP tools and features integrated only for WordPress in the Cloudways Hosting Company. Especially if you are more technically biased, then you will love what Cloudways has to offer you. They provide unlimited databases and online accounts for you. They will provide the daily backups so that you will never miss any data of your important website. In addition to this, Cloudways offers a great set of features for the users so that they can manage their server and have a simple user account backend.
Launch Multiple Applications
Manage Multiple Domains
Easy Server Scalability
Complete Monitoring
FREE SSL Certificates by Let's Encrypt
Built-in Varnish support
Pre-installed features for e-commerce stores
Cron Job Management
Migration Tools
24/7 Live Chat Support
CloudwaysBot Notifications
Projects
Lastly, Cloudways offers a full-spectrum of hosting solutions.
2: Super Blazing Website Loading Speed
In addition to those amazing WP integrated features, Cloudways also offers super blazing speed for bloggers and website owners. Cloudways understands well that when it comes to making a blog or website, user-friendly, the key is the speed. So, this web hosting company takes the speed of your blog very seriously with its several features including:
Varnish & Nginx Caching: Not only this, the Cloudways' super geeky caching mechanism based on Varnish & NGINX reverse proxy that ultimately speeds up dramatically the serving of the dynamic content of the sites.
PHP7 and HTTP/2 Server Support: Their servers support make execution faster and quicker on the Cloudways' server.
CloudwaysCDN Availability: Cloudways' CDN availability makes your blog and website to load faster in any part of the world. THE CDN delivers the content much faster from the nearest data center, even when accessed from any part of the world. It is an add-on subscription though.
3: Excellent Website Security
With security breaches becoming the new trend in the present digital world, Cloudways offers the toughest security available for bloggers and website owners. Here are the security features that make Cloudways unique in the security part:
HTTP/2 Technology: The Cloudways' server support for HTTP/2 technology offers the most secure options available for the bloggers.
Proactive Patches: The Proactive patches are kind of the preventions that are sent to all the clients when new threats emerge.
Free Letsencrypt SSL: You will get a free SSL certificate for your website, which will help you get better rankings on search engines and you will also gain the client's trust.
In addition to these features, Cloudways also runs regular security scans and malware protection on your sites and sends you a report to notify you of the results.
4: 100% Uptime Reliability
When choosing the host for your website, uptime is an important thing to consider. In addition to all the above features, Cloudways offers reliable uptime that ensures your site is live and active on a consistent basis. A number of websites using Cloudways as their web host reviewed that they offer 100% uptime reliability and no wonder why Cloudways has become the popular managed WordPress hosting.
5: WordPress Support
Got a problem with your WordPress? No worries! Cloudways offers a 24/7 support team that can be reached anytime, for advanced expertise. As a matter of fact, most of the web hosts don't care about your blogs, their task is to keep the server running, but if you screw up your website, it is not their responsibility. Thanks to Cloudways that offers free of cost customer service, any time you want. Most of their technical support team are thoroughly familiar with WordPress, and they're happy to help you with a quick fix or word of advice. With virtually no wait time on chat and phone and around 10 minutes for the first response, Cloudways consistently offers nearly 100% customer satisfaction rates.
6: Phone, Email, and Live Chat Support
Ohh! did we mention that Cloudways also offer the Phone, Email, and Live Chat Support? Yep. You can call and talk to the customer representative of the Cloudways Web Hosting Company for offering you the solution to your problem. Well, that is pretty rare with the other hosts, however, not with the Cloudways. Cloudways offer a ticketing system where you have to submit a ticket and then wait for a response whenever you have a problem. That is fine for every kind of problem you have with your website. Whether you have installed a wrong plug-in or your site simply shuts off, simply pick up a phone, call them and your site gets fixed. Or if you are convenient with Live Chat, describe your problem to them and it will be fixed shortly by the Cloudways support team. I would rate them at 98% for their awesome support service!
7: Free Website Transfers and Migrations
Transferring from a different host is more than an overwhelming task that you can ever come across. Worried about the same switching process? And what about the hundreds of dollars for the same process? No worries. Cloudways will do it for you in your package. Not only the Cloudways move your files from one server to another (that's what most hosts do), but it will also do some necessary tweaks to make sure everything is working for you after the move.
8: E-commerce Features Included
Even if you have WordPress integrated with e-commerce plugins such as Woo-Commerce, you don't have to worry about getting a different host. Because Cloudways also supports e-commerce sites while featuring SiteTools to make it easy for you to one-click install 18 different e-commerce applications.
9: Affordable WordPress Hosting & a 30-Day, Money-Back Guarantee
Cloudways' hosting fees, especially for their managed wordpress cloud hosting plans, are quite affordable in comparison to similar hosts. In addition to all the above features mentioned above. Not only this, but they also offer a 30-Day Money back guarantee. So if you are not satisfied with their services, get your money back without any risk.
10: Global Oriented
Another major pro of the Cloudways is its global orientation. They belong from Malta and that is neither a major tech hub, nor is it a major English-speaking cultural hub. From their website interface and their customer reviews, the company seems to go above and beyond to create a global look and feel that works for anyone. They also accept multiple currencies (AUD, USD, GBP, EUR) and offer multiple local toll-free lines + free country-specific domains. The hosting industry is typically very US-centric, so this change is welcome.
11: Transparency
Transparency is another plus that comes with the Cloudways WordPress Hosting Package. It is natural for a blog or a company to want its privacy packed and want to get the services from a company that is transparent about what they do and how they do. Cloudways has everything transparent. When you visit their site, you'll see that they display both their monthly uptime percentage and their yearly uptime percentage so you can see how their sites are performing. Furthermore, they are also very transparent about their monthly and annual plans, so that you will always know what you are getting in return.
Cloudways Managed WordPress Hosting Plans and Prices
Cloudways, basically, offers multiple managed hosting plans for their cloud hosting services. The following pricing is for Digital Ocean Cloud VPS using Cloudways.
1: 1GB + 1Core CPU: The 1GB cloud plan starts at just $10 per month that provides the users with all the essential hosting features that they want to run their blogs effectively. This is a pretty fantastic entry-level plan for beginners and you can host multiple websites and PHP web apps like WordPress, WooCommerce, Opencart, etc.
[cta_btn color="primary" size="lg" link="https://www.mtwebsol.com/go/cloudways" ]>>> Cloudways Plan @ $10 <<<[/cta_btn]
2: 2GB + 1Core CPU: If you need more resources and want to host various PHP applications and websites, then 2GB + 1Core CPU plan is your way. This plan is comparatively popular among bloggers who prefer to host heavy traffic sites using a fast performing cloud VPS.
[cta_btn color="primary" size="lg" link="https://www.mtwebsol.com/go/cloudways" ]>>> Cloudways Plan @ $20 <<<[/cta_btn]
3: 4GB + 4Core CPU: You will get 4x more resources. This plan starts at $80 per month and you can create a lot of resources hungry/heavy traffic eCommerce stores and multiple PHP applications/websites using this plan.
[cta_btn color="primary" size="lg" link="https://www.mtwebsol.com/go/cloudways" ]>>> Cloudways Plan @ $80 <<<[/cta_btn]
40% DISCOUNT PROMO CODE: BFCM2020
Cloudways is a highly recommended WordPress hosting company, no matter whether you are a beginner, moderate, high profile blogger, or even an eCommerce enthusiast. MT Web Sol recommends Cloudways as the most affordable and most effective web hosting service for your WordPress website. If you are still on the fence about Cloudways then take advantage of its 30 days, money-back guarantee offer to see if it is really worth it!