5 Best WordPress Security Plugins to Avoid WordPress Hack in 2023
In any field of life, spending on security measures to protect any kind of assets is considered to be a wise step. It saves you from the losses, in any mishap. Same goes for your WordPress website. If you do not take security measures, you should get prepared for any kind of havoc. In this post, we are going to tell you about top five best WordPress Security Plugins to Avoid WordPress Hacking.
Top 5 Best WordPress Security Plugins to Avoid WordPress Hacking in 2023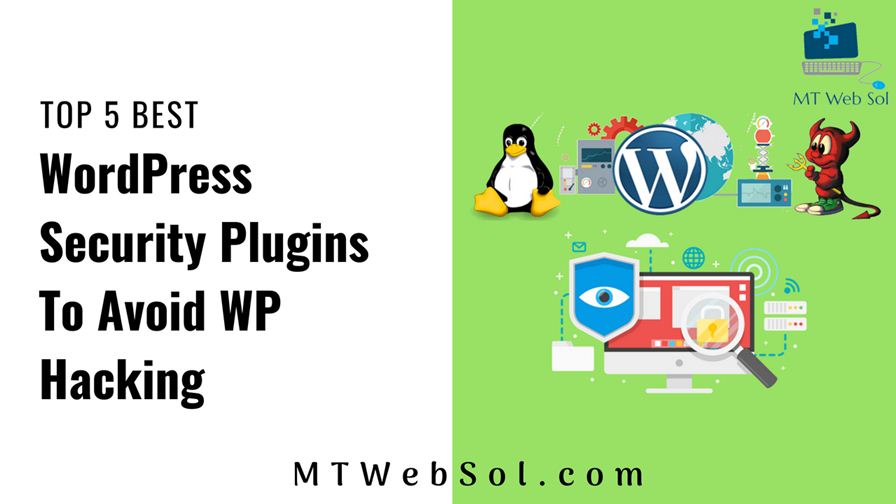 Though WordPress by default comes with some of security features, but they are not capable enough to compete reputable security plugins. They deliver active security monitoring, file scanning, malware scanning, blacklist monitoring, security hardening, post-hack actions, firewalls, brute force attack protection, notifications for when a security threat is detected and much more.
1. iThemes Security- Security Plugin For WordPress
iThemes security was formerly known as Better WP Security. It gives you many impressive ways to secure and protect your website. It comes with 30 different offerings to block unwanted intruders. There is a file change detection which informs you when a file is messed with.
There is a process of two factor authentication. Any app like Google Authenticator can generate a code for you. Your website is automatically scanned for malware every day. It prevents brute force attacks too. You can generate strong passwords right from your screen. It is also possible to set maximum duration of keeping one password and after that force users to change the password. There is a google recaptcha, which protects your site from spamming. You can track all user activity. Like when do they login and edit content. GeoIP feature is not available but company has promised to update soon. iThemes Security enable you to manage your site's security from command line. Moreover, you can update your WordPress salts and keys to add an extra layer of complexity to your authentication keys.
2. Wordfence Security Plugin For WordPress
WordFence is one of the most famous WordPress security plugins. It checks your website for malware infection, on regular basis. All the files of your WordPress core, theme and plugins are scanned. You will be notified, if any kind of infection is found. It uses Falcom caching engine, to increase the speed of website. Though the plugin is free, but a few advanced features are available for premium users.Block attackers by IP or build advanced rules which are based on IP Range, Hostname, User Agent and Referrer.
WordFence repairs files that have changed by overwriting them with a pristine, original version. Any files that don't belong easily within the Wordfence interface, are deleted. Moreover, WordFence blocks bruteforce attack and can add two factor authentication via SMS. If you want, you can also block traffic from any specific country. There is a firewall which blocks the fake traffic, botnet and scanners. It also scans your hosting for known backdoors like C99, R57 and others. You will instantly get email notification, if anything is found.Posts and comments are also scanned for malicious code. It also supports multi-site. You can also check the traffic on your WordPress website in real time and see if there is any security threat which makes your website vulnerable.
3. BulletProof Security Plugin For WordPress
BulletProof Security is also a very popular WordPress security plugin that takes care of your site in a number of ways.Like malware scanner, login security, anti spam, database backup and much more.
It comes with some of the most unique and advanced security tools on the market, with features like BPS Pro ARQ Intrusion Detection and Prevention System (ARQ IDPS)  and encrypting solutions.The interface is excessively simple. It is just a four click setup.
Failed login attempts are limited. Security scanners, fake traffic, IP blocking and code scanners are blocked. It keeps on checking the core files of code, themes and plugins and notifies admin if any infection is found. It uses caching to optimize the performance of your website. There is built-in file manager for htaccess. It protects WordPress websites against various vulnerabilities like XSS, RFI, CRLF, CSRF, Base64, Code Injection, SQL Injection and many other. BulletProof security is updated on regular basis, with new vulnerabilities to keep your website protected. It keeps on updating it according to new exploits and vulnerabilities.
4. Sucuri Security Plugin For WordPress
Sucuri Security is an excellent security plugin for WordPress. It is the product of popular website security and auditing company Sucuri. It offers diverse security features like security activity auditing, file integrity monitoring, malware scanning, blacklist monitoring, security hardening and website firewall. Sucuri Security incorporates many blacklist engines including Google Safe Browsing, Sucuri Labs, Norton, McAfee Siteadvisor and more to check your website for security. You are notified via email, if there is anything wrong. It comes with free and paid versions,but for lot of websites free version is more than enough.
Your website is protected from DOS attack, Zero Day Disclosure Patches, brute force attacks and other scanner attacks. It also keeps log of all activities and all these logs are safely kept in the Sucuri cloud. In case an attacker is able to bypass the security controls, your security logs will be safe within Sucuri's security operations center.You can have multiple versions of SSL certificates in paid version.
Customer service is available via instant chat and email. Go for the Sucuri premium service, if you intend to pay. You can get better service and advice, by the team of experts.
5. All In One WP Security Plugin For WordPress
All In One WP Security & Firewall is one of the most famous and like WordPress security plugin to check vulnerabilities in your WordPress website and takes the security of your website to next level. It is easy to use and reduces the security risks by adding recommended security practices.There is complete mechanism to deal bruteforce which not only protects against brute force login attack, but also locks down if someone tries to bruteforce. You get an email notification if somebody gets locked out due to failed login attempts. It detects if user saves a weak password and forces him/her to use a strong password instead. The account activity of all users is monitored. Username, IP and login date time are fully tracked.
You can schedule automatic backup and receive notification. It disables admin area editing to protect PHP code. It installs a web application firewall in your website and enables 5G Blacklist to prevent various attacks. Bad query strings, prevent XSS, CSRF, SQL injection, malicious bots and other security threats are denied.It takes best measures for database security and file security. It comes with a security scanner which keeps track of files and notifies you about each changes in your WordPress system. Malicious code can be detected in your WordPress website. It protects your blog from comment spam. It also works with most plugins seamlessly. You can prevent unauthorized users from accessing readme.html, license.txt and wp-config-simple.php files.
Which is the Best WordPress security plugin? Different people may have different answers for this question. If you are a beginner, All In One WP Security suits you the best. For the best value, it is recommended that you use iThemes Security. If you want free plugin try All In One WP Security, Sucuri Security or WordFence security.
MTWebSol offers Best WordPress Website Development Services. Get in touch with us to discuss your next web project.