Top 5 Best Slider Plugins for WordPress Website & Blog Development
It's not a piece of cake to find the best slider plugin for your WordPress site. The repository of WordPress has got more than 690 sliders. Do you have the time to download , install and validate all of them. Certainly not. So in order to save your time, we have collected the cream from milk. If you read this post, you will get to know about top five best slider plugins for WordPress Website & Blog Development.
Top 5 Best Slider Plugins for WordPress Website & Blog Development in 2018
Slider Revolution is an innovative, responsive and excellent WordPress Slider Plugin. that displays your content in the most beautiful way possible. No matter, it's a Slider, Carousel, Hero Scene or even a whole Front Page, the visual, drag & drop editor will let you tell your own stories in no time. There is a complete library of slider templates.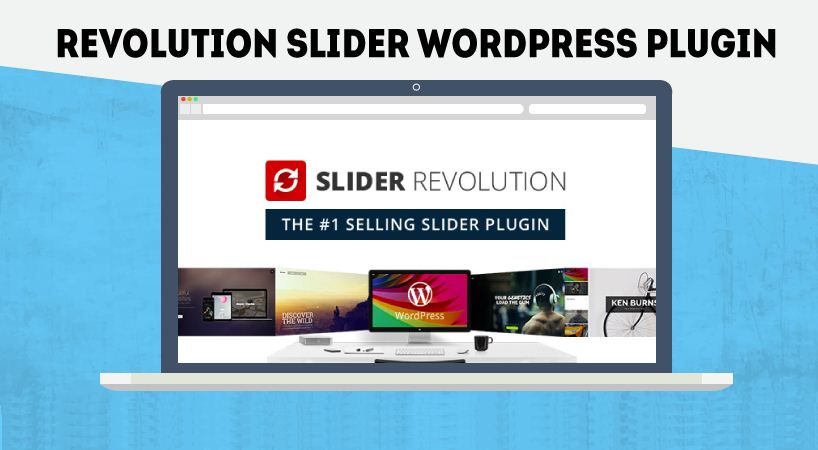 Slider Revolution comes with a powerful visual editor which helps you to build beautiful presentations, even if you are a beginner. Slider revolution looks stunning on every device. Its responsiveness has something you have  total control on. There is support for WordPress posts, Flickr,  Instagram, Twitter, Facebook, YouTube, Vimeo and HTML5.  The performance is so beautifully optimized that the site loads up with lightning fast speed. Slider Revolution was developed in 2012, and since than has been constantly improved and evolved.
You can also create beautiful one page web without coding. It has been tested by security professionals and have been declared as totally safe from potential threats.
LayerSlider is a premium and multi-purpose animation platform. There are slideshows & image galleries with mind-blowing effects. You will get fabulously animated landing pages & page blocks, or even a full web app can be developed. So all WordPress website can download and amuse from the wonders of this LayerSlider. There is a drag and drop visual editor makes it super fun and easy for everyone to get started with plugin, without having any technical knowledge. The bests starting point might be selection of templates which are carefully crafted, aesthetically pleasing and can be easily customize to fit for any needs.
There is a new animation engine with which you can easily animate anything. 200+ pre-defined transitions, even in 3D effects. LayerSlider is SEO friendly and localization ready. It is compatible with all browsers. You can use LayerSlider for personal needs, professional website, representing your work, or even for ads on billboards. It looks perfect for all devices and comes with great support.
A fully responsive and touch-enabled WordPress slider plugin. SliderPro allows you to create professional sliders. Built with user experience in mind, providing a simple and intuitive user interface in the admin area, SliderPro is a great plugin that promises smooth navigation experience for the end-users. No unnecessary fanciness, that many times often annoys end-users and makes it difficult in getting the information they need. The focus of SliderPro is simplicity and performance, while still providing a wide range of customization possibilities.
This plugin offers a native-like navigation experience on touch-screen devices. You can enjoy multiple, differently sized (fixed height & variable width, or the opposite) slides in a carousel-like layout.You can also scroll through slides continously, or in an infinite loop. You can load separate images for different sizes. You can navigate through slides using keyboard.
SliderPro also comes with some back end features like, dynamic content, automatic updates, caching, import and export, powerful JavaScript API and filter hooks.
4. MetaSlider WordPress Plugin
Make powerful, fascinating and 100% SEO optimized slideshows in minutes, in very simple interface. Adding to the style of your website or blog was never easier. Select the images from media library, drag and drop them set the details of slide which may include captions, links and SEO fields etc. There is full width slideshow support.

There are four different types of slides. First is flex slider. It is responsive and comes with 2 transition effects and carousel mode. Second is Nevo Slider. It is responsive and comes with 16 transition effects and 4 themes. Third is Responsive Slides. It is responsive & incredibly light weight. Fourth is coin slider and it comes with 4 transition effects.
Admin preview, Intelligent image cropping, Set image crop position, Fully localized, WordPress Multi Site compatible and compatibility with translation plugins are probably the best features of MetaSlider WordPress Plugin.
5. SlideDeck – Responsive WordPress Slider Plugin
If you want to create amazing and responsive WordPress Slider In Minutes, With No Code, try SlideDeck. It is famous slider plugin for all your image and video slides. Over the years, SlideDeck has evolved from a mere Image Slider to a feature-rich content slider.  It makes slideshow creation and its publishing super easy with its awesome features like responsive slider, touch swipe, smooth transitions, SEO friendly and many more.
You can make stunning video sliders using YouTube and Vimeo. Pull the content dynamically from your social media channels and showcase them in slider format. Moreover, there are 50+ smooth transition effects for you to choose. There is a touch swipe slider to change slides with touch of  your finger. It is compatible with any theme, like Elegant themes, CyberChimps, Themeforest, WooThemes, etc. The best plus is that you can code your own custom slider in HTML.
As far as the best plugin is considered, the thorough research and critical comparison would most probably make you conclude that MetaSlider is the number One. It has received the highest ratings from users. Incredible balance of features and functionality makes it pleasure to use.
If you are looking to get your business website developed at a fraction of cost with all premium features and qualities, you are at the right place. MTWebSol deals in all kind of Website Development Services. Get in Touch with our experienced team to discuss your next web project.