Real Estate Business Website Development by MT Web Sol
Real estate is one of the hottest markets in today's world. Everyone needs a house to live in. Internet can be used as the powerful marketing channel for real estate business. People are searching for everything on internet. It is the resource of 90% of the information used in home researches. Creative and professional website designs can really stand you out in real estate competition. You can distinguish your services from others and let your buyers know about the different new homes available for sale or rent. So if you own a real estate business and do not have an online portfolio, you are making a terrible mistake. You need to stay in game by increasing your web presence. And you have to increase it very effectively.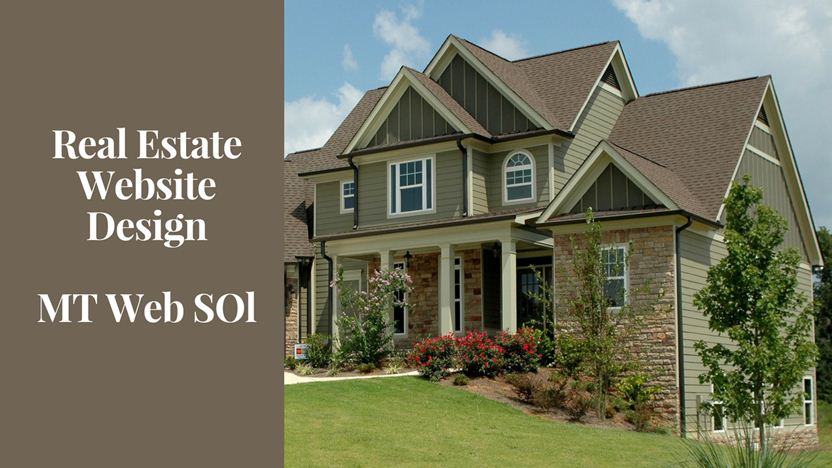 According to research seventy two percent of agents and brokers have their own real estate websites. You can include pictures of the places available and add their detailed information. It may be about the neighborhood, locality, and area of the property or other minor details of it. The schedule which informs visitors about open houses is also very important. You can make complete contact information section which shows videos of houses, and the information about background of broker. This website should let the potential customer understand where you stand as real estate business man, and help him make a good decision.
Real Estate Website Development Service
There are many beautiful real estate website designs in WordPress available on internet which truly showcases perfect online presence of their respective brands. Real estate website design in WordPress has become a very hot and competitive market, due to growing demand of real estate website designs in WordPress.
If you want to get a beautiful real estate website design in WordPress developed for your business, we strongly recommend you to hire MT Web Sol. They have a team of highly qualified developers who has made many professional and elegant looking real estate websites, ever since the company started to operate. They are number one in real estate website services.
Gone are the days of effective outbound marketing. Now it is vital to showcase yourself by online presence and focus inbound marketing. Social media marketing is the most effective way of marketing these days. Do not think that you are free once you create the website. You need to make the blog, and advertise on as many social media platforms as you can like Facebook, Google Plus, Instagram, Twitter and Pinterest etc.
All these steps will help you create your online brand. You should be someone home buyers and sellers trust. According to survey conducted by National Association of Realtors, 96% of Americans are looking on internet to buy the houses. It is because internet makes it very easier for potential clients to find you and your properties.
So let your clients learn about you because it is a great place for a client to get to know you and your business and choose you as their realtor. You must strive to become a go to resource for your clients.
The advantages of online presence double when you need to target a specific geographical area. You can integrate targeted keywords which are most likely to be used by people of that area. These keywords can represent that area in your website elements like Meta data, URL(s) and titles. These are all very simple SEO tactics. This gets narrower and finds more interested clients.
Get Started with Real Estate Website Development Project
Almost every real estate website builder will suggest you to make a blog on your website. It will help you a lot in attracting a large number of audiences. It is a very useful way to win the trust of your clients. Get in touch with MT Web Sol, to Start your Real Estate Website Development Project at a very reasonable price.